While certain kitchen elements, like cabinets and countertops, are often selected for their timelessness, kitchen backsplashes are a great opportunity to showcase your style. At Bluestem, we love personalizing this section of the kitchen because backsplash design can really make a big impact on the overall aesthetic. Plus, it's relatively easy to change if you ever decide to switch up your styling!

Some of the most common materials for kitchen backsplashes include tile, stone, glass, and solid surface materials.
Let's take a look at each one:
Glass
Yes, you read that right. Glass can be an absolutely gorgeous backsplash option. By utilizing back-painting or colorizing, glass can elevate your kitchen to a whole new level. Glass backsplashes also add a shiny surface that'll imbue your kitchen with reflectivity and light. In this prairie influenced kitchen, the backsplash becomes an individualized work of art.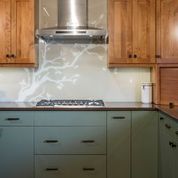 Tile & Stone
Tile and stone are classic materials for a kitchen backsplash, and there's a good reason. Both tile and stone are durable and resilient – a benefit for spaces that see lots of mess. Plus, with lots of options out there, you can create gorgeous designs for your kitchen.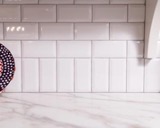 Solid
If tile backsplashes aren't for you, consider backsplashes in a solid surface material. While it can create a bit of a monolithic feel, it can also become a stunning conversation piece. Featuring quartz or granite in a complimentary color to your kitchen's overall look can work wonders to your overall aesthetic. Bonus: with less seams to worry about, it's easy to keep clean!

Once you've chosen a material, it's time to play with the design!
There are several different ways to incorporate style and personality into your kitchen backsplash.
Here are a few to consider:
Keep It Simple
Sometimes simple is beautiful. "Subway tile" in ceramic or stone is a classic and timeless choice.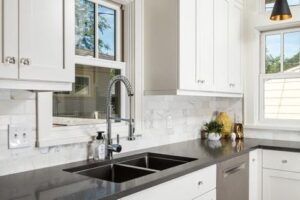 Vary the Size and Pattern in a Monochrome
Incorporating an intricate design or pattern in your tiles can add a pleasant twist without becoming overwhelming. We love this recent kitchen and butler pantry remodel.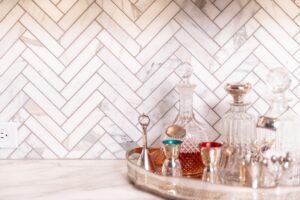 Colorful Accents & Listellos
Accent tiles can break up neutral kitchen backsplashes in a unique and personalized way. A listello, or feature strip, can incorporate pieces you love, but want to use sparingly. You may have found a collection of beautiful tiles on your recent vacation or fallen in love with an exclusive line at the local shop. Using these specialty tiles as accents will highlight their uniqueness.
This historic St. Paul home design utilizes different color and pattern combinations to make a stunning work of kitchen art.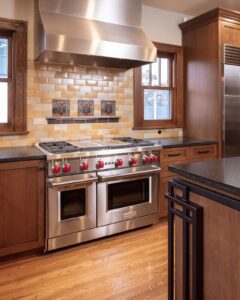 Feature Area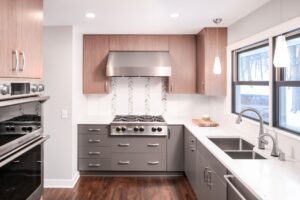 A feature area can draw the eye exactly where you want it to go. Take a peek at this unique backsplash design where a feature area makes a big impact.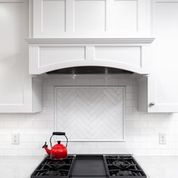 In the mood for something more understated? This design is gorgeous and clean, while showcasing a unique look.
Bold
Why not go for it and commit to something bold?
Down the line, if it's not working for you anymore, it's simple to change. Because the backsplash is a small area, it's easy to modify if you ever decide it's not working. We love this tricolor, bold patterned backsplash design.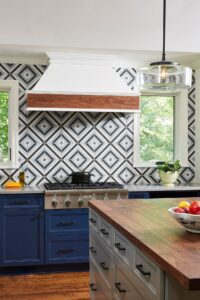 Take a peek at this Uptown Minneapolis home design that takes advantage of different colors and combines them to make a stunning work of kitchen art. Playful and eclectically-placed colors bring a lot of life to a neutral pallet. This backsplash feels organic, and gives a bright pop to this otherwise traditional, neutral kitchen.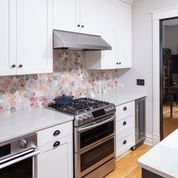 Take It Up!
Depending on your kitchen, you may be able to extend your backsplash all the way up to the ceiling. Sometimes kitchen walls can feel horizontally chopped, but this method can unify the wall, and pull the whole kitchen together. While it may look luxurious, it's not a huge investment.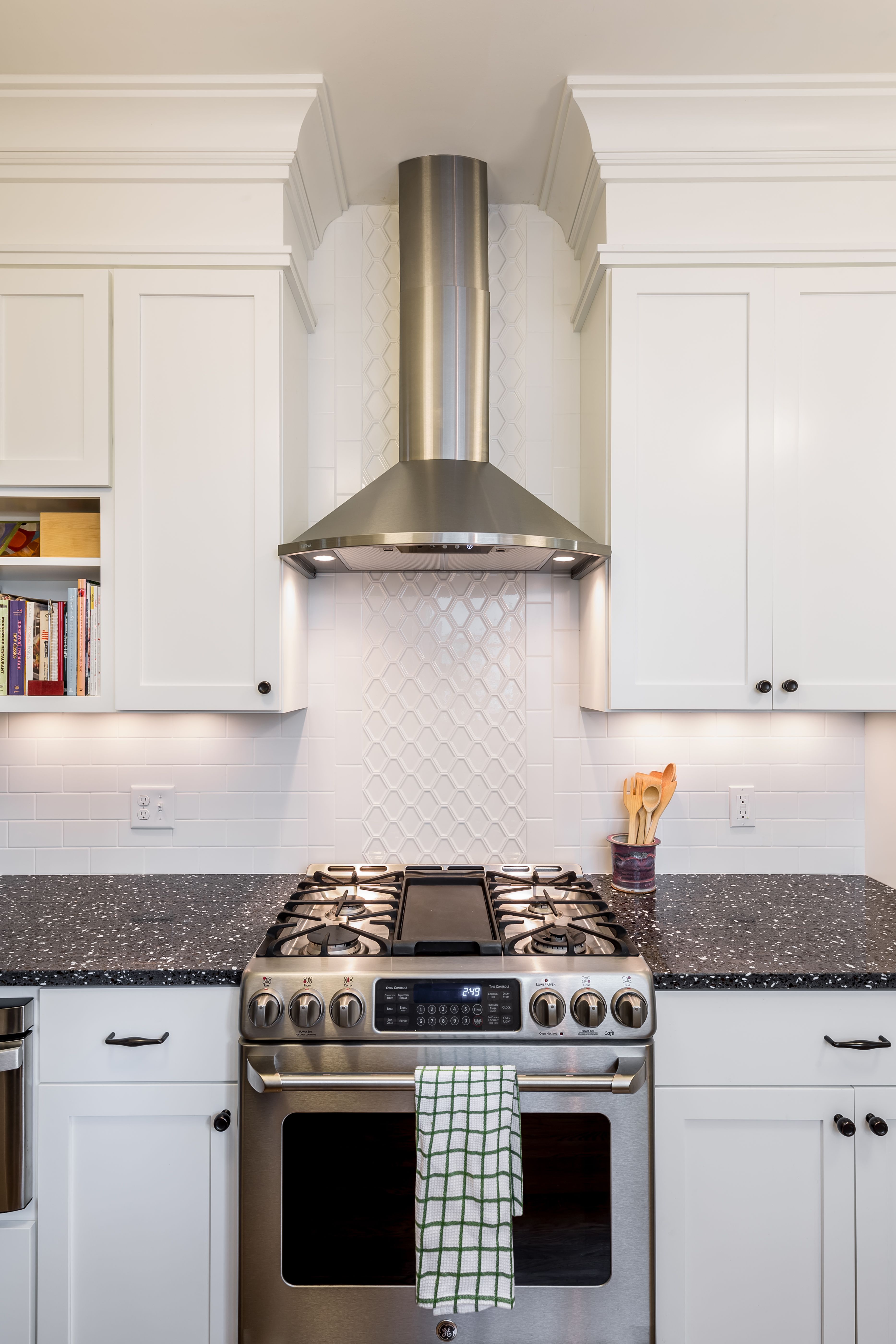 We Don't Recommend…
Kitchen backsplashes are a great place to be be creative and try something new. One element we don't recommend: porous materials, like slate or marble. Unless they are securely sealed, it can be hard to keep them clean. However, the use of high-quality sealers can improve this and help keep your backsplash tidy. After all, no one likes scrubbing stains in the kitchen more than they have to!
We Love Kitchen Designs!
Kitchens are an integral part of any household. We love helping homeowners showcase their personal taste, and backsplashes are a great place to do that! Whether you want to go classic, modern, eclectic, or somewhere in between, The Bluestem Team can help you transform your space. Feeling ready for your next kitchen remodel (or any home remodel)? Contact us to see how we can elevate your home design and create new spaces you'll love.