Our Process
We create a more collaborative and satisfying path for your remodeling experience, a path focused on close communication and discovering a shared vision for your home. From initial design to final construction, Bluestem's uniquely attentive team of specialists, designers and craftspeople guides you through each step of the journey leading to customized spaces that
reflect your needs, aesthetics and values.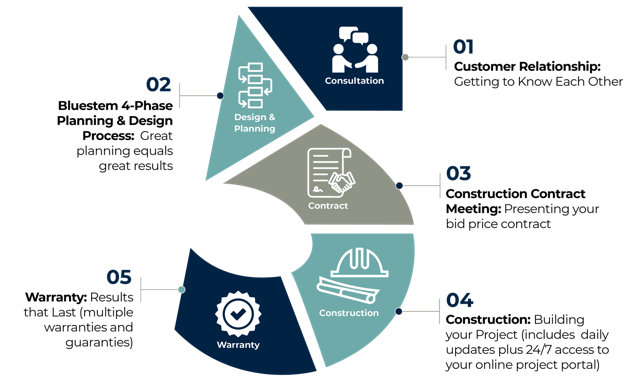 The Bluestem Process for Getting Fantastic Remodeling Results
Bluestem's detailed process ensures your project is done right. You are always in control of your decisions, schedule and investment. We eliminate surprises, make sure you are always heard, and help you get the best possible solutions for your home. These are key pieces of a great remodeling experience.
We create a partnership with you – a collaborative relationship built on communication, trust and consistency. Our personalized design and planning strategies combine our expertise with your voice to get you results you will love for years to come.

INITIAL CONSULTATION
Customer Relationship:
We start by getting to know each other.
Your Needs:
Our team learns about your needs and dreams for your home. You will come to understand the enormous value you receive when working with us — and how much fun it can be! This step includes an initial in-home consultation and an optional meet & greet with our team.
There is no charge for getting to know each other.
Bluestem 4-Phase Planning Process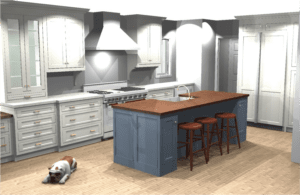 Good planning is the best way to ensure your project is done right! It can also ensure that you have a great experience and enjoy the remodeling process. Our organized and proven 4-Phase Design & Planning Process is your assurance that you will get what you want and stay on your budget – to the penny. (Questions about our Design & Planning process? Email us at Team@bluestemRemodeling.com)
Phase 1: Project Launch
Online Project Portal Setup: Your personalized project portal is created. You'll never have to worry about having all the details for your project – including costs, calendars, and communication; they're all in one place, available 24/7.
Design Kick-off Meeting. The planning and design process is officially kicked off at your home! The project area is measured and 2D "as-built" plans are created.
Investigation of the conditions of your home so we know what's possible.
In-depth discussions with your designer for a more complete understanding of your needs, dreams, goals, and budget.
Phase 2: Design Exploration
More detailed conversations with the design and planning team.
Sharing of visual inspiration.
Concept Presentation Meeting. Your personalized "shopping experience" for your remodeling project.
Here you will see:
– Options for design, layout, features and scope of your project.
– Detailed budgets based on each of the designs being presented.
– 3D computer renderings.
Phase 3: Project Assessment
The Selections Kick-off Meeting. Wondering how people pick out all those fixtures, surfaces and colors?
Our Managed Selections Process makes it easy! Do you like to shop on your own? Or would you rather have more support from the design team?
We discuss how to best partner with you then tailor the process to your personal preferences, and in all cases, help organize the many decisions so you won't get overwhelmed.
Continued collaboration with the design team to even further refine the details of your project.
Phase 4: Design Resolution
On-Site Project Analysis. This is key to reducing surprises and giving you our bid-price guarantee. It includes in-depth technical problem-solving, review with our partners, and review of building strategy.
Your Lead Carpenter gets to know the details of your home to be fully prepared.
We craft a working set of plans from all of the decisions we've made so far together then update them to reflect what's being build.

In-depth discussion and collaboration with the design team to work towards the final scope of work.

All details of your project are added to your project portal. We review with you, and if needed, make adjustments to the scope of your project.
A bid price contract is created.
Construction Contract Meeting
You are presented with the final, guaranteed bid-price Construction Contract. There will never be a surprise bill; there is no "going over budget" when you work with us.
Once the construction contract is signed and the deposit is paid, it's time to start planning and preparing for the work to begin!
Pre-Construction & Construction
Construction permits are obtained – both building permits and partner permits.
The team will ensure all of your selections are ordered correctly, arrive on-time and are thoroughly inspected before they are to be installed in your home.
Production Introduction Meeting.
A detailed Construction Schedule is created in your online portal.
Pre-Construction Meeting.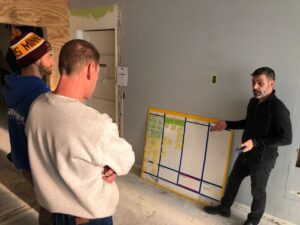 Project Oversight. Your Project Lead provides consistent leadership and stays connected to the design team.
You will receive daily updates on the progress of your project.
Designer Check-ins. Our designers make regular site visits during construction to verify everything from framing to tile.
Quality-control checklists to ensure on-track, accurate work.
Warranty
We stand behind our work and want to make sure your newly remodeled spaces serve you for years to come. We stay in regular contact with you after your project is complete and will cheerfully attend to appropriate warranty concerns during the warranty period.
Our warranties include:
12 Months Workmanship Warranty
24 Months Mechanical Systems Warranty
10 Year Structural Warranty
Lifetime Cabinetry Warranty
Total Basement Finishing Products Warranties (vary)
For more information visit our Warranties Page.
If you have any questions about our full-service design through construction process, email us at Team@bluestemconstruction.com

Kristi & Scott's Kitchen Adventure!
Kristi and Scott give a tour of their recently remodeled kitchen and discuss their remodeling experience.
READY TO GET STARTED?
A better design-build experience awaits. If you're ready to re-imagine your home,
contact us today to discover the benefits of an organized, reliable system with
a truly personalized design approach.
Or Email us for your initial consultation
Customized Design |
Complete Communication |
PERSONALIZED APPROACH |
Exceptional Results