Warranty
OUR WARRANTIES
Bluestem understands that from time to time there may be minor issues with an item on your project. We want you to know that we stand behind our work and want to make sure that your newly remodeled space serves you for years to come! We will cheerfully attend to appropriate warranty concerns during the warranty period. Just contact us, we are glad to help.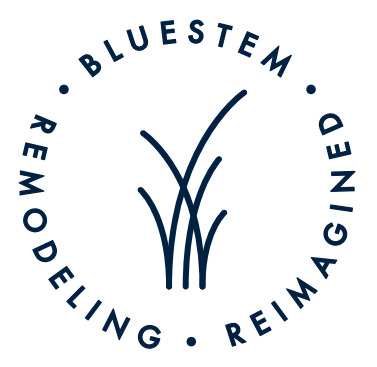 Workmanship Warranty:
Bluestem Construction warranties your project for a period of 1 year from completion.
Our warranty includes workmanship defects related to our provided and installed products. Warranty does not cover the changes to appearance of finished surfaces due to natural variation of materials, seasonal temperature & humidity changes, weathering, normal use, or abuse
Warranties for windows, appliances or other installed owners will be from the manufacturer of the product.
Systems Warranty:
Mechanical, plumbing and heating systems are warranted from installation defects for a period of 2 years. All warranty correction must be carried out by the licensed trade-person that completed the installation. During the warranty period, Bluestem Construction will coordinate the warranty activity.
Cabinetry Warranty:
As a dealer, we support Greenfield, Siteline and Design Craft cabinetry products in warranty issues. We will supply the labor to correct warranty issues during the first year. (See the manufacture's warranty below.)
Total Basement Finishing Products Warranty:
As a dealer for Total Basement Finishing, Bluestem Construction will attend to warranty issues together with the manufacturer's warranty. (See the manufacturer's warranty below.) We will supply the labor to correct warranty issues during the first year.
OUR MANUFACTURERS' WARRANTY CERTIFICATIONS
CUSTOMER SPOTLIGHT
"You Have One of the Best Teams in the Twin Cities"
"Many of my friends thought I was crazy to go to Florida and leave it all up to the team. Well, they are so shocked and happy for me when I told them all was done on time and to... Read more »
- Karan, Wayzata
"Incredible Quality"
Everybody can tell that it's an incredible quality of work.
- Matt and Mary, St. Louis Park
VIEW PROJECT
"The Communication Was Amazing"
The communication was fantastic. We knew exactly what was going on when it was going on… The communication was amazing.
- Kristi & Scott, Wayzata
VIEW PROJECT
"They Were So Communicative, Responsible and Great Problem Solvers"
I have been recommending this company [Bluestem] to everyone I know. They were so communicative, responsible and great problem solvers. All the staff were very personable. They sincerely cared about you and your project and getting it right for you.... Read more »
- Sue, Minneapolis
"There Were No Surprises"
I always knew when someone was coming … there were no surprises.
- Susan, Minneapolis
"The Dream Kitchen that We've Been Wanting"
This is just like the dream kitchen that we've been wanting for such a long time. It's just gorgeous. Amazing. It's better than I ever thought it could be.
- Kristi, Wayzata
VIEW PROJECT
READY TO GET STARTED?
A better design-build experience awaits. If you're ready to re-imagine your home,
contact us today to discover the benefits of an organized, reliable system with
a truly personalized design approach.
Or Email us for your initial consultation
Customized Design |
Complete Communication |
PERSONALIZED APPROACH |
NO SURPRISES