We all know the feeling of looking at the same four walls and finding they lack inspiration. Condo remodeling can open up a world of possibilities, and with the right experts, you can create a beautiful, personalized space – perfectly suited for your needs and lifestyle!
So, What Do You Need to Know Before Your Condo Remodeling?
Condo remodeling projects can be a different process than your average home remodeling and design. Here are some of the important things you need to know before you dive in.
First Thing's First, Understanding Your Why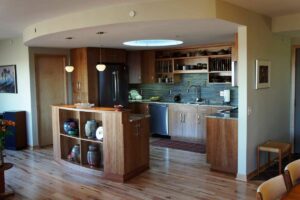 Before you even think about starting a condo remodeling project, consider why you want to remodel in the first place. How will this project improve your quality of life? Or, on the flip side, how will it make an aspect of your condo work better?
Your Why could originate from a couple of different places:
Aesthetic

– simply put, you don't love how something looks. Maybe your kitchen is too dark, preventing you from cooking as much as you want to. Or, the bedroom wallpaper chosen by the previous tenants is really driving you nuts when you're trying to fall asleep at night. Let's make something beautiful!

Function

– your bathroom is falling apart. We all know how important a bathroom is to a comfortable home life. Let's make something that works!

Accessibility

– you're looking to open spaces up for mobility or to seamlessly age in place. Because condos are typically single-level, we often see this as an inspiration for

condo remodeling

. Let's make your home comfortable!
Once you list out your goals and gather up inspiration photos…
Decide on Your Investment
How much do you feel comfortable investing in this remodel?
Condo remodeling can come with some added costs, which is why it's so important to…
Hire an Expert
An expert remodeling company will be able to look at your budget and the scale of your proposed project. Your team will let you know what's possible (and what isn't possible) within the confines of your space. Plus, they'll make sure your goals align with your values. And together, work to ensure that the overall task is feasible.
Our piece of advice: during this stage, keep a flexible mind on how certain elements could be accomplished. Trusting the professionals can yield stunning results you may never have imagined.
Digging In: It Pays to Be a Rule-Follower
Because condominiums typically have specific policies, it's time to bring in experts who are used to understanding and working within these confines. From the initial condo approval process to the nitty gritty details, condo remodeling requires meticulous planning and research. You can avoid having your project interrupted – or even worse, ruined – by following all of the rules and requirements during your remodel and by paying close attention to the details.
Imagine this scenario: you absolutely hate your condo carpeting. You want to rip it all out, but, there are rules about having hardwood flooring in your condo because of the extra noise it can cause for your downstairs neighbors. What are your options?
At Bluestem, we research those flooring rules for you. Then, with the help of our flooring expert, we craft solutions – including extra padding – that honor noise restrictions while simultaneously laying down the walnut or cherry floor of your dreams. All it takes is knowledge, creativity, flexibility, and teamwork.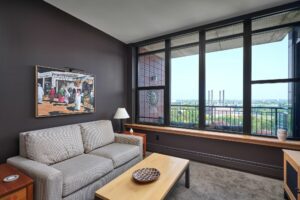 Remember, You're Not Remodeling a House
As you plan out your condo remodeling project, there are some limitations to keep in mind:
Building access – Building access may be more limited. And because remodeling elements are being brought in through a limited space (usually an elevator, and almost always, a small one), things can take longer. This also means materials may have to be smaller or cut down to get them where they need to go!
Different work hours – Depending on the rules of your condo, work hours might be restricted, which can add to your overall timeline.
Cleanliness – Because condos are shared spaces, you want remodelers who can carefully haul equipment through beautiful hallways without dirtying or damaging them.
The Perks of Condo Remodeling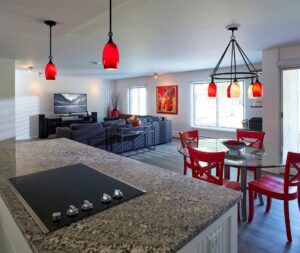 Don't worry. There are some bonuses from remodeling a condo! For one, because most condos are newer (and often maintained by a professional) — it's rare to encounter unforeseen conditions that can bog down or halt a project altogether.
And, since we don't have to focus on the exterior, we can really dig into making the interior what you imagine and dream of.
The Beauty of Limitations
Limitations can actually be beneficial. We're going to be honest: it can be difficult (but not impossible) to move plumbing in a condo. But having that as a barrier means our creative problem solving skills go into overdrive. We've worked with homeowners to create some absolutely stunning condo remodels, uniquely designed around elements we couldn't change.
Simply put: limitations can drive a good design.
At Bluestem, we harness our expertise and design skills to deliver cost effective and unique solutions.
If You're Gonna Do It, Do It!
Look, if you're going to go through the hassle of remodeling one aspect of your condo, our advice is to go all in. Change out the floors that have been driving you wild, update your living room's paint color, or move the walls to open up your bedroom. Dig in, make some dust, and get ready for a brand new (feeling) condo.
The Bluestem Way
As with everything we do at Bluestem, our goal is to make your remodeling dreams your new reality. Whether you're just starting to figure out your why, or you have a whole Pinterest board of inspiration, we're here to help you on your condo remodeling journey.
Contact us today to learn why we're the best at what we do.