Hygge (pronounced [ hoog–uh ]) is a Danish word that revolves around the feeling of coziness and contentment, of surrounding yourself with elements that bring you joy, including laughter, warmth, and good food and drink. The concept has gained popularity in the United States over the past decade, and was a top contender for Oxford Dictionaries' 2016 "word of the year".
When Mark Ferraro-Hauck, Bluestem Remodeling's co-owner, talks about hygge – he thinks about it a little bit differently:
"Hygge is related to the Swedish word lagom, which translates to 'just the right amount', or in other words, 'this is enough'".
Helping you personalize your individual hygge is a mainstay of Bluestem's process.
Let's dive in and take a look at this Danish concept as a state of mind – of contentment – where things are just right.
My home is a place that cares for me and for other people,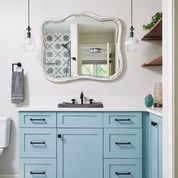 The Hygge Journey
First, envision a place where you felt content. Where you could sit and be, feeling wrapped by goodness. Are you imagining it? It can be a grandmother's home, a vacation home, a childhood home, your best friend's kitchen growing up. As long as what you're seeing stirs up good sensations, it's a worthwhile place to draw inspiration from.
Now, jot down the things you loved about this place. Here are a few questions to get you going:

What were the physical sensations you felt?

What was the light like?

Was there anything specific you were looking at?

Were there colors you were drawn to?

How did the room feel? Did it feel like it was encompassing you, or was it big and open?
While you're doing this exercise, forget all about trends. The hygge mindset is about staying true to your own desires and needs, and not about flashing what's popular right now.
When you're done, take stock of your answers. They'll guide you on how to recreate those sensations in your own home and create hygge for yourself. This is the start of your own personal redesign process.
a space to sustain us, to comfort us, to bring us joy,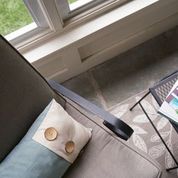 What's Not Working
Next let's approach this idea from the exact opposite angle. What places in your home currently leave you uncomfortable or harried? Your bedroom? Your kitchen? The front door where you struggle to leave every morning? Think about those times during the day when you're at your "least best" (it's okay, we all have them). How could those spaces feel and work better?
Let's take the laundry room as an example. Say you hate going there — it's dark, cold, and you still haven't put away last year's holiday decorations. You avoid the room as your laundry piles up. Your distaste for the room grows even stronger.
Now, imagine more organized storage for those holiday decorations. Warm bright lights. A painting that brings you joy. A carpet that feels delicious under your toes. Suddenly, laundry isn't so bad anymore.
a place where we nurture ourselves and the people closest to us,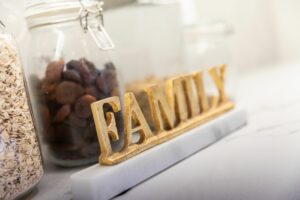 Creating Hygge Yourself
When you're looking to redo a room in your home with this hygge mindset, start with an element you are really drawn to. It could be a rug, a piece of furniture, or even a color. Once you've decided on one piece, slowly build up other elements around it. Find a chair in a complimentary color, or a piece of art that fits in well. Slowly keep building around that initial object or color. As you're going on, consider if these elements support your physical and emotional comfort. If they do, you're decorating hygge style.
when I am in the room, my life is good.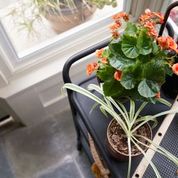 The Bluestem Approach

We begin all of our projects at Bluestem with intentional listening. Whether a client wants "a kitchen where all the kids want to hang out" or to "bring in lilacs that remind me of my grandmother", we gather a sense of what brings you comfort and joy. Based on what you express, we present choices for you to honestly respond to. As we move through the design process together, we find the specific choices of layout, materials, and color that create the experience you want. And, we continually return to those initial conversations, making sure we stay true to your individual sense of the world. Everyone's hygge is different and we want to honor yours.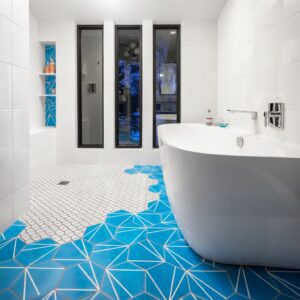 Let's Dive In Together
At Bluestem, one of our greatest joys is creating a space that brings you joy, and we're proud to say you can feel the joy radiate in the reviews we receive. When you're ready to dive into your next remodeling project, contact us and let's spark up a conversation about how hygge life can serve you, your household, and your home.