BLUESTEM RECOGNIZED AMONG THE TOP CUSTOMER SERVICE LEADERS IN THE RESIDENTIAL CONSTRUCTION INDUSTRY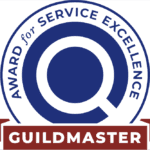 GuildQuality's 2021 Guildmaster Award Honors
Bluestem Remodeling
May 5 – Bluestem Remodeling of St. Louis Park, MN received a 2021 Guildmaster with Highest Distinction Award from GuildQuality for demonstrating exceptional customer service within the residential construction industry.
GuildQuality, an Atlanta-based third-party customer satisfaction surveying company, powers the Guildmaster Award to recognize and celebrate home building, remodeling, and contracting professionals demonstrating the highest level of customer service within the U.S. and Canada.
Out of nearly 2,000 eligible applicants around the nation, Bluestem is one of 400+ businesses within the residential construction industry recognized by GuildQuality for consistently delivering superior customer care.
In determining which businesses received the 2021 Guildmaster Award, GuildQuality reviewed thousands of survey responses submitted by customers of Guildmaster candidates and considered two primary metrics for each candidate: the percentage of customers stating they would recommend the business to a friend and the percentage of customers who responded.
Bluestem Remodeling achieved a recommendation rate of 90% or above from their customers surveyed by GuildQuality.
"We are so proud to have received this award, and grateful for the all homeowners who have trusted us to work in their homes," said Timothy Ferraro, Bluestem's owner and founder.
For more on the 2021 Guildmaster Award and qualifications, visit www.guildquality.com/guildmaster/.
About Bluestem
Bluestem Remodeling is known for its full-service and customized design build process, focusing on strong collaboration and close communication with homeowners. The team has been delivering high-quality, high-value projects for over 20 years and is passionate about creating great remodeling experiences for Twin Cities homeowners.
From initial design to final construction, Bluestem's integrated team of specialists, designers and craftspeople guides homeowners through each step of the remodeling journey, leading to finished spaces that reflect each client's individual needs, aesthetics and values. Bluestem strives to create great remodeling experiences while delivering lasting results that homeowners will love.