Remodeling a basement can bring a whole new dimension to your home. Since you already have the square footage, you might as well create a space you love! Say hello to an additional place to entertain friends, let the kids play, work, work out or pursue a hobby.
But, a basement remodel is different from other home remodeling projects. Our Bluestem basement experts charted out what you most need to know about this exciting endeavor.
Beginning the Basement Remodel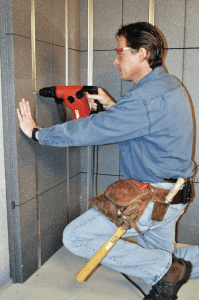 It's hard to remember that, more likely than not, your basement is a hole in the ground. As such, the utmost care and precautions need to be taken to keep your remodeling work in good shape for decades to come.
Choose (Your Materials) Wisely
When it comes to basement remodeling, being prepared is key. The #1 thing we want to avoid: mold growth. That's why, at Bluestem, we steer clear of organic materials including wood, paper, and fabrics when remodeling basements. Wet organic materials become a breeding ground for mold.
Instead, we opt for steel studs, walls, PVC, and insulation systems on outer walls designed specifically for wet environments. Since these facets are hidden behind the scenes, no one will be able to tell the difference (except you, of course). Once those structural elements are in place, we work just as diligently to ensure the aesthetics look just as great as your upstairs environment.
Bluestem tip: Remember, making sure the basement is built from durable, mold-resistant materials is just as vital as aesthetics.
(Read our tips for a Mold-Free Basement)
It's All About the Floors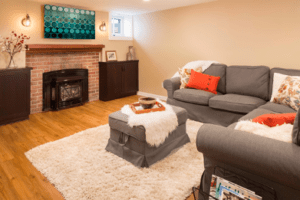 Durable flooring is essential for a lasting basement remodel. You need a flat, solid, concrete slab, about 3-4 inches thick. Confirm with your building expert that your slab is ready to support your final flooring choice. If it's not, what do they need to do to get it ready?
Why is this so important? If your concrete isn't flat and solid it could affect the install of the final flooring. No one wants a wavy or cracked floor in the middle of their basement.
Bluestem tip: Make sure your concrete slab is ready for your flooring choice and choose flooring that's right for the basement environment.
The Importance of Radon Mitigation
We've mentioned mold, but radon is another element to watch for. This radioactive gas is dangerous, especially for kids and young people.
Your basement remodeling team should test for radon before beginning a remodel. Don't skip this step – otherwise, it's easy for your basement to quickly become unusable.
Bluestem tip: You can get an inexpensive radon testing kit from your own city hall! If you haven't tested in a while, we recommend grabbing a test and doing it yourself.
The Egress Rule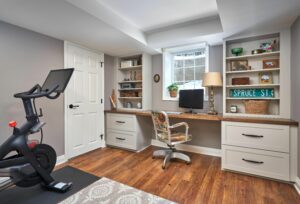 All basements are legally required to have two different ways of getting out. That means, you may need to add an egress window during your basement remodel. As you're thinking about how your basement will be structured, keep that in mind: where your egress window is located will need to be a part of the plan.
Bluestem tip: Is your basement a walk-out? That counts as a second way of getting out, so you won't need to worry about adding an egress window (unless you're adding a bedroom, in which case an egress is required!).
What's Going On In Your Basement?
Chances are you have important equipment in your basement that keeps your home running smoothly. The placement of your furnace or hot water heater can influence your redesign.
A basement remodeling expert will look at your existing layout and offer multiple design options. Weigh those options (and their individual trade-offs) to see what's most in line with your vision!
Bluestem tip: If your furnace or hot water heater is due for an upgrade, a basement remodel is the perfect time to take care of that!
Basement Remodeling in Minneapolis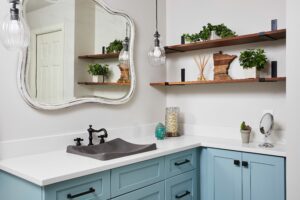 Here in Minneapolis, where we have a plethora of beautiful historic homes, we also have several very specific elements to consider for basements. And if you're thinking the weather is probably a factor – you're spot on.
The good news: Because there's not a lot of bedrock up close to the surface, most homes are already built with a basement.
The not-so-good news: It is wet here in the land of 10,000 lakes. Between our bodies of water, the rain, the ice and the snow, water management is crucial for a durable basement remodel.
Possible strategies for controlling water around your home:
Incorporate Grading

: Expert grading can help push water away from your home.

Maintain Gutters

: Well-maintained gutters help move water away from your home.

Invest in a Water Management System

: A drain tile system helps keep water from entering your finished basement.

Research Your Land

: How high is the water table around your home? Is your soil clay? Sand? Where are you relative to water? What's going on next door or down the street? These answers will help in your planning!
A consultation with a professional on your basement remodel in Minneapolis can help you understand what your unique challenges, options and opportunities are.
Function, Fun & Durability: The Bluestem Way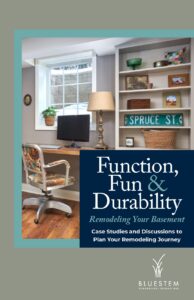 We know it's possible to build a basement that is safe, comfortable, durable, and beautiful — you just need the right people doing the job. Our commitment at Bluestem is to create a functional basement that you and your loved ones can enjoy for decades to come.
If you feel like a basement remodel is in your future, contact us! We'd love to hear what you're thinking and answer any questions you have. In the meantime, check out our basement portfolio or download our basement case studies and get inspired!