Kitchens serve many different functions, from simple meals to extravagant events to just being a household hangout space. Creating smart storage solutions means your kitchen can be inviting and open while also holding all of your necessary equipment!
Bluestem's design team, passionate about kitchens that are both beautiful and functional, offers inspirational ideas for all your storage needs.
Create a Gorgeous – & Functional – Kitchen
One of the easiest ways to make a kitchen feel good and work better is to reduce countertop clutter. And what's the easiest way to help reduce countertop clutter? More storage!
Here are some of our top recommendations for remodeling your kitchen with storage in mind.
Framed vs. Frameless Cabinetry
While framed cabinetry has been an American staple for generations, European-style frameless cabinetry is being utilized more and more these days. With this frameless construction (also called full-access construction), you end up with much more room.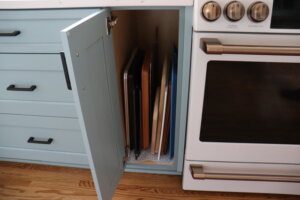 Frameless cabinetry offers about 13% more storage overall because there's less wood taking up space. This might seem incremental, but after a while, it really adds up.
Another benefit of frameless construction is taller drawers. This extra room means you don't have to worry about that one spatula that always seems to get jammed and stuck, and, you can even select cabinetry that fits items like cutting boards and cookie sheets!
These sleeker, more modern cabinets offer much more height and width and can cover all of your kitchen storage needs.
Say Goodbye to Soffits!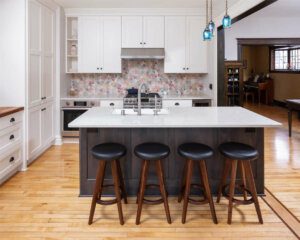 If your home has soffits taking up what could be glorious storage space, you're not alone.
This vestige from the 50's made sense in those days, when cabinets were shorter and people didn't want dust collecting on top of them.
But today, soffits are unnecessary.
Our storage experts at Bluestem can swap out older, shorter cabinets (and their accompanying soffits) with gorgeous, new cabinetry that run all the way up to the ceiling.
More storage and no dust!
The Joys of a Walk-In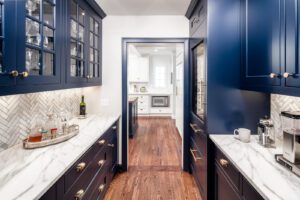 While cabinets can keep your countertops from becoming too cluttered, you also don't want too much cabinetry taking over your kitchen. Too much cabinetry can make a room feel crowded, like the walls are closing in. This is where a customized walk-in pantry comes in handy. A separate room can lighten up your kitchen while still keeping all of your favorite appliances close by.
Walk-ins are the way of the future," says a Bluestem Design Team member. "To maximize storage, sometimes designers build out a giant kitchen – and then immediately fill it with cabinets. However, an entirely separate room, with even more shelving, is often more efficient and less costly in the end. With this solution, you're able to store smaller appliances close to the kitchen and still avoid losing any precious countertop real estate."
If you're the type of household that loves to throw a party, a walk-in can be an excellent staging area for caterers. By remodeling with adjustable shelves and a decent amount of counter space, a walk-in pantry can make food prep and storing incredibly easy.
Storing Seasonally
From holiday serving platters to that Mickey Mouse waffle iron you just can't bear to throw away, sometimes you want a separate storage option. One unexpected idea? Use the back of your kitchen island! Building shallow cabinets underneath the seating area can buy extra space and give you even more storage options.
Plus, you can have these extra cabinets designed and executed with touch latches so they blend in seamlessly with the rest of the island.
The Biggest Mistake
What's one thing you should avoid in your remodel? Refacing. While it might look nice, it won't actually fix any of your function or layout issues, or get you any more storage area.
Instead, invest in strategic kitchen storage solutions that create a more accessible, organized, and beautiful kitchen.
This will make the room feel open and light while still maintaining functional work spaces.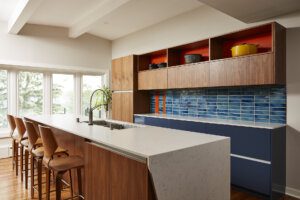 And, to achieve this, you don't necessarily need to reinvent the wheel. With smart remodeling changes, you can easily double useful storage and increase function without even changing the footprint of the kitchen! It just takes the right remodeling team and plan for your home.
Bluestem Knows Kitchen Storage Solutions
No matter what your storage needs are, Bluestem can help design a space that you and your loved ones will want to spend time in. Our goal is to make your kitchen to look good, work great, and most importantly – feel good. After all, chances are you spend a lot of time in this part of the house. Let's make it one of your favorites!
Take a peek at some of our kitchen remodels and contact us to get started on your very own dream kitchen.