Welcome Back! In Creating Synergy in the Home: Part One, we discussed the importance of fostering synergy in your home and the impact of synergy on home design.
Synergy can refer to the different parts of your home design – flow, color theory, lighting – that all work together to create your ideal space. The collaboration of these design elements, together with the components of your home, can radically support your lifestyle and deliver more joyful, relaxed moments at home. But how do you achieve such a final result?
Bluestem's design team shares a few pieces of advice to help homeowners looking to bring more synergy into their spaces:
Missed the first part? Read Creating Synergy in the Home: Part 1.
How Do You Bring Synergy Into the Home?
Synergy purposefully invokes a sense of peace (whatever that means for you) in the spaces you inhabit. Remodeling your home and creating spaces suited to your own needs and lifestyle is a great way to establish or revitalize this connective energy. You want your home to help make your life as easy and pleasurable as possible.
To achieve this, here are a few design options we like to utilize at Bluestem: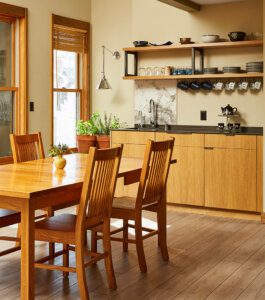 Comforting Textures.
You can pull this in with flooring. Try natural wood with a matte finish and a textural rug or wall-to-wall carpet.
An acoustical cocoon can also be appealing to some homeowners. You can achieve this by upholstered walls, textured wallpaper, or grasscloth.
Inspiration from the Natural World.
Nature is healing, bolstering mental health, focus, and wellbeing. It also provides colors perfectly suited for pulling into your home design. Blues and greens are inherently calming, and so is nature-inspired artwork. If you're missing the outdoors, you can pull in artwork that features landscapes, trees, water, flowers, bodies of water—whatever speaks to you.
Live Plants.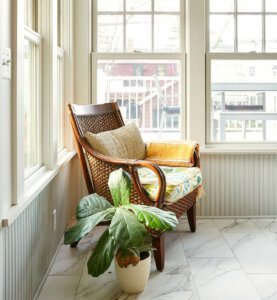 Speaking of nature, you don't have to rely simply on the art on your walls. Bringing in houseplants can be a beautiful, grounding reminder that we're inherently linked to nature. You might be surprised at what a difference a few plants can make to your experience at home.
Don't have time to care for live plants? Don't worry, artificial representations can get the job done, too.
Ergonomics is Everything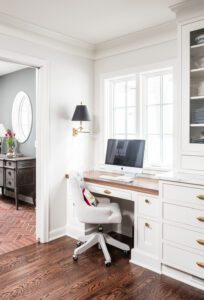 When was the last time you considered the ergonomics of your home? Do you have the right office chair at the ideal desk height? How about your countertop height—is it comfortable? Is it comfortable to brush your teeth and wash your face? These moments add up and affect how you feel in your home.
An easy way to find this: Which spaces give you a sense of inconvenience, irritability, or frustration? Those ergonomics are likely not supporting you in the right way. At the very least, they're certainly not contributing to a sense of peace.
The good news: an experienced design-build team will think through ergonomics so your home can support your body and soul.
The Magic of Mechanicals
The mechanical systems in your home —HVAC (heating/cooling systems systems), sound quality, and lighting — can greatly impact your at-home experience.
Try this simple exercise. Pick a room at your house and sit quietly for five minutes, observing your surroundings.
Then, jot down answers to the following:
What is it like to be in this space now?

Is it hot? Is it cold? Or is it comfortable?

Can you see around the room, or is it dark?

How does your chair support your back?

How does sitting here, undistracted, make you feel? Do you feel rested, or do you see (or feel) elements that annoy you?
The goal of a good design is to create an environment that supports your needs and gives you a feeling of peace. This allows you to experience more joy at home.
Sound, light and temperature are three key components to consider, as all can have a big impact on your experience at home.
Here are some some recommendations for how you can tailor the mechanicals of your home to create more synergy:
1. Be Thoughtful About Vents.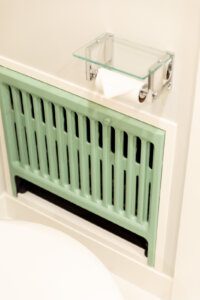 How air circulates in your home is a significant factor many homeowners don't consider. During your home remodel, your designers can create thoughtful vent placements (depending on limitations, of course) so you're not dealing with a freezing draft.
(Plus, they can even bring a touch of color to a room to help brighten it or enhance a fun design!)
2. Always Use Dimmers.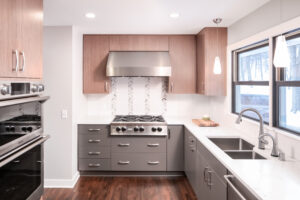 Lighting can have a huge impact on how you feel in a space. Dimmers are an inexpensive way to change the feeling and function of a room
or area in your home. Easily transition from high-energy moods to relaxing, joyful family dinners.
Bright lights are perfect for activities and tasks. Then when it comes to relaxing and entertaining, enjoy a darker space with ambient candles.
3. Splurge on the Sound.
An echo chamber isn't particularly relaxing for most people. Warm up your space's sound using fabric! Area rugs, window coverings, upholstered chairs, wall fabric, and grasscloth wallpaper on the ceiling can absorb sound.
Ambient sound can also enhance the feelings you want in this space. If you have friends over for a happy hour, you can cultivate a lively atmosphere. Or if you want a quieter coffee date with a friend, you can choose certain music. As you think about your next home remodel, consider integrating built-in speakers, especially in the family room or home theater.
What Does Peace Mean to You: Minimalism vs. Maximalism Design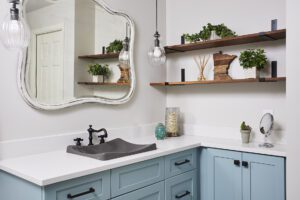 Peace means different things to different people. Some favor neutral designs and a few select pieces of art. Others love to be surrounded by books and pillows and art and rugs and colors. The key is finding your happy place.
When it comes to your home, there are no rules. A professional design team can help you uncover what fuels you. What gives you energy or peace? How can your built environment support your well-being? What do you want to foster in your own life, and how can your home get you there?
Get Ready to Change Your Home
At Bluestem, we approach remodeling projects with the homeowners' needs in mind. We work to draw details out of our clients, starting with a thorough initial homeowner evaluation. You'll go through and answer questions such as:
What do you like about your current home?

What would you like to see?

What drives you crazy?
Those answers are a great jumping-off point as the Bluestem Remodeling team puts together design ideas for you. Understanding our client's overarching goals allows us to ask more detailed questions and create a space that'll take care of you for the long run.
Collaborate With an Innovative Minneapolis Design-Build Team
You want to work with a remodeling company that can help you invest in good, thoughtful design. If you're taking the time to disrupt your home, do it right with carefully selected materials and installation and the right company. A combined design-build team means you're not talking to multiple companies but one cohesive unit working together. Talk about synergy!
Ready to change the feeling in your own home? Reach out to our Bluestem Remodeling team for your initial consultation. Together, we'll make a space you love to be in.