When you think about your home, have you ever considered how all the pieces work together to support your daily life and enhance the overall experience?
Most people realize that their homes are made of a great deal of pieces: components, materials, and systems. Many people are also aware that homes reflect ideas such as "flow of space," color theory, and lighting – the things we often call "design elements."

The better the conceptual design elements and the pieces work together, the better the home functions and feels. When it all works really well, the end result is much more than just a collection of the pieces. We often call this connection Synergy.
What is Synergy?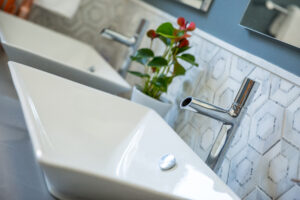 Synergy can be described "as the interaction of elements that, when combined, produce a total effect greater than the sum of the individual elements."

All of the elements and pieces in a home are interconnected, and a home design can either support the lifestyle of the people who live there or create challenging and frustrating experiences.
The Impact of Synergy on Your Home Design
Remodeling is an opportunity to improve your home experience. With the right design and components, you can create an environment that fosters your needs for peace, energy, comfort, rest, humor, relationships, productivity, communication, and creativity.

Bluestem's design team talks us through their approach to synergy and how it can radically transform your experience at home.
How Your Home Supports You
Your home's build and design affect almost every aspect of your daily life, meaning they must serve several different functions. You want a space that supports you and your needs throughout varying points of the day.
A strategic remodel that addresses those needs can help you and your home reach a new level of support and connection.
Let's look at two common examples:
AT-HOME OFFICE

For a productive at-home work environment, you may want
a sense of calm, where you can focus and be comfortable.

You can achieve that functionality and create that experience by specifically planning calming colors and natural light, as well as softer materials for your walls, chairs, rugs, and accessories.

DINING ROOM

In a dining room, you might crave an energetic and playful experience where you can host, eat, laugh, and entertain loved ones.

You can achieve that through more color, transitional lighting, and sufficient space to accommodate comfortable chairs for all of your favorite people.
The Connection Between Quality and Synergy
One of the best things you can do for your home? Invest in quality materials and workmanship. A worthwhile upfront investment can mean fewer costs down the line, with minimal hassle and repairs.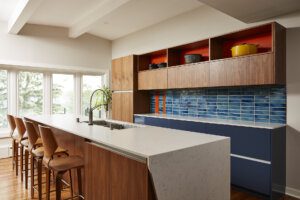 By thoughtfully selecting materials, layout, construction, and design details, you can enrich your hobbies, rituals, and aspirations – and avoid later hassles and stresses. These elements work in tandem to create the right environment for your life and passions.
For example, let's say you love to bake. If your kitchen is cramped and disorganized, you'll likely become frustrated and wind up abandoning your passion and baking less frequently.
Now, suppose your scratch-resistant countertops are ample and sit at a comfortable height, your floors can withstand a mess, there's a strategically placed lighting, and ingredients are easy to find. Chances are, you're going to enjoy your kitchen experience a lot more, and spend more time baking amazing treats.
The Impact of Synergy on the Home
There are several ways remodeling can benefit your future, your wallet, your well-being, and the world.
Maintain and Increase Resale Value
Thoughtful investing and updates in your home help you retain and add value. The wonderful experience you will have created in your home will also be of value to a potential buyer.
Financial, Environmental & Personal Well-Being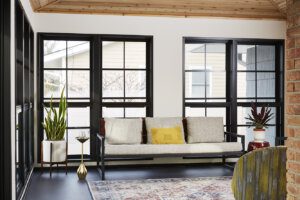 An updated home means fewer repairs, and fewer repairs means less money coming out of your bank account. At Bluestem Remodeling, we approach projects holistically, thoughtfully addressing the practical considerations, along with the great design. After all, when you spend time and money to change your home, you not only want results that are beautiful, you want results you will love for years.
In addition, high-quality materials and craftsmanship built to last means less will need to be discarded and replaced over time, which is better for our environment.
A frustrating home robs you of life energy. Once you have a space that rejuvenates you (however that looks for you), you can pour the recovered you can pour your energy into places in your life that you're passionate about and bring you joy: family, friends, pets, work, and hobbies.
When the pieces and the design of your home come together in synergy, your home starts to give back to you.
The more our homes give back to us, the more we can experience those moments of rejuvenation, peace, joy, and relaxation within our homes. This is the priceless benefit of a great remodel.
Looking for More Home Renovation Ideas?
We get it! There is so much to take in and sort through before you embark on a home remodeling project. Take a closer look at our work for more inspiration and to envision how your space could better support your day-to-day life.
Whether you're in need of a home addition, kitchen refresh, or a bathroom or basement remodel, incorporating synergy into your home will support – and therefore enhance – your daily life.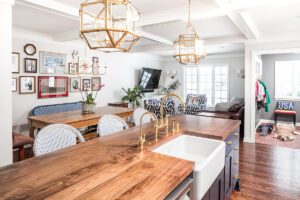 Our expert designers and builders can offer home renovation ideas and recommendations as they guide you through the planning and decision-making process. This will translate into thoughtful, long-term solutions that will support you – and your home – for years to come.
Curious about what Part Two will have to offer? Stay tuned to our Bluestem blog for an in-depth look at design elements and building pieces that can enrich your experience at home.