What are the benefits of a bump out addition?
We really like our older home, but need more space in certain areas. Can we add just a few extra feet here and there when we remodel?
Maybe you love the feel of your classic neighborhood and the charm of your older home, but since you've moved in, minor design flaws have become glaring issues. There's no room for the platters in your kitchen cabinets, there's an ever-present pile of shoes at your back door, and you're not sure where you're going to put the new baby's highchair. You need more room. Not a lot, just a little.
If you don't want a big new addition, how about a bump-out addition?
What is a Bump Out Addition?
Bump-out additions can provide remarkable solutions when a sizable addition to your house isn't possible due to budget considerations, lot restrictions, or aesthetics. Adding 100 square feet (or even less) to your home's footprint can dramatically improve how your home works and feels. Bump outs – also known as micro-additions – add space and value to your home. Plus, they're less expensive and time-consuming to design and build than standard additions.
Not Your Grandparents' Lifestyle.
If you look at historic homes, you'll notice room sizes are generally smaller. That's because our grandparents and great-grandparents had different priorities than we do now. No one needed a computer room, TV space, or a kitchen with a multitude of appliances. Lifestyles have evolved, creating different needs. New technologies, transportation, wardrobes, and even dinner plates have expanded, changing how we go about our daily lives. This means our homes need to change, too.
To make room for your unique lifestyle needs in your vintage home, talk with a diversely experienced and inventive design team about how adding just a little space can completely change how your home functions and feels. Read below to learn how small Minneapolis home additions completely transformed three local homes.
Bump-out Addition #1: "Bring in the Sun"
The existing kitchen, dining room, and entrances in this home felt chopped up and cramped. An entryway bump-out expanded the room by just 90 square feet at the front of the house, allowing for well-connected, spacious rooms.
The biggest challenge was putting a roof on the addition that would improve the home's front and street appeal. A pair of shed dormers (long, shallow roof pitch) cover the extension on the front. The upper dormer has three square windows that create the illusion of a second story, but they're actually a lightwell that floods the kitchen with morning sunshine.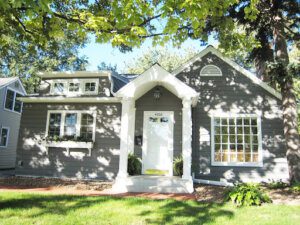 Bump-out Addition #2: "Tiny Kitchen, Big Transformation"
The original kitchen in this home was too small for the owner's needs. The only way to achieve the homeowner's goal of having a two-cook kitchen with an eat-in counter was to add space while also respecting a tight budget.
As we developed and honed their bump out addition plans, it became apparent the kitchen would require four legs of cabinetry/counter for all the kitchen components, enough room to build a peninsula, and the needed clearances for full-size appliances. Our design team developed a custom solution to meet the homeowner's needs — a simple 3-foot-deep x 12-foot-wide rectangular addition which allowed for a new U-shaped cabinetry configuration.
Check out our additions portfolio to read case studies and see more bump-out addition before and after photos, and see how a small bump out gave new life to this Cape Cod home.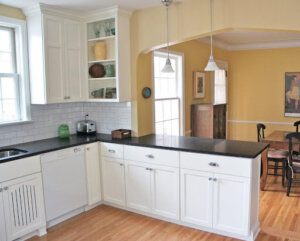 Bump-out Addition #3: "Bump-out Magic: No Added Foundation Needed"
This Uptown Minneapolis home was in desperate need of a mudroom. Enclosing the rear porch offered big rewards for function, flow, and aesthetics. Now, the new mudroom is ideal for storing footwear, coats, and gear for Minnesota's ever-changing seasons and was created without even changing the home's existing footprint. This modest entryway bump out also significantly enhanced the kitchen, creating an airy, light-filled new space while keeping costs down.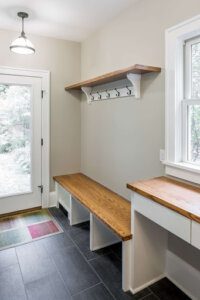 .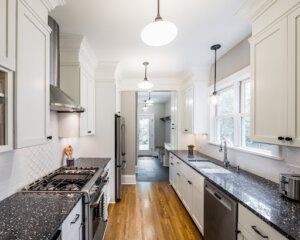 Want to gather more ideas and inspiration? Look through our portfolio for more bump-out addition before and after photos.
How Big Can a Bump-Out Be?
A house bump out can be as minimal as you'd like (two to three square feet) or as expansive as an additional room. Our Bluestem team works with you to make informed decisions and develop personalized solutions about what will work best for your space, your needs, and your budget.
The Trusted Team for Minneapolis Home Additions
As an established Twin Cities remodeling team, Bluestem makes slight but life-changing adjustments to your home so you can continue to love where you live.
Contact us and start your dream remodel today!