Whether it's not enough space or outdated fixtures, having a bathroom that doesn't work for your daily life can be incredibly frustrating. But before you jump headfirst into a bathroom remodel, our Bluestem experts have put together a checklist to help you prepare for what's ahead before you set up your initial consultation.
Your Bathroom Remodel Checklist (According to the Experts)
Set Your Priorities
Examine your current bathroom. What's not working for you, and what changes could enhance your daily life? Whether it's size, style, layout, or functionality, these priorities will help guide you through the rest of the remodeling process.
Here are a few questions to help you brainstorm:
Who will primarily be using this bathroom? If it's going to be used by kids or dogs, maybe simplify some features to make it more cleanable and durable, such as faucet style, sink shape or finishes.
Are you looking for a high-function or a high-luxury bathroom (or something in-between the two)?
Is your bathroom stylistically outdated? What style do you envision for your new space? Finding pictures that feel good is a great way to share the style you're interested in.
Are you looking for aging-in-place accommodations or walker accessibility? How do you expect that will impact your new bathroom's design (walk-in shower, larger doors, etc.)?
Write down these priorities, ordering them by their level of importance. This list will be your guiding star during the remodeling process, so keep it handy to refer to along the way.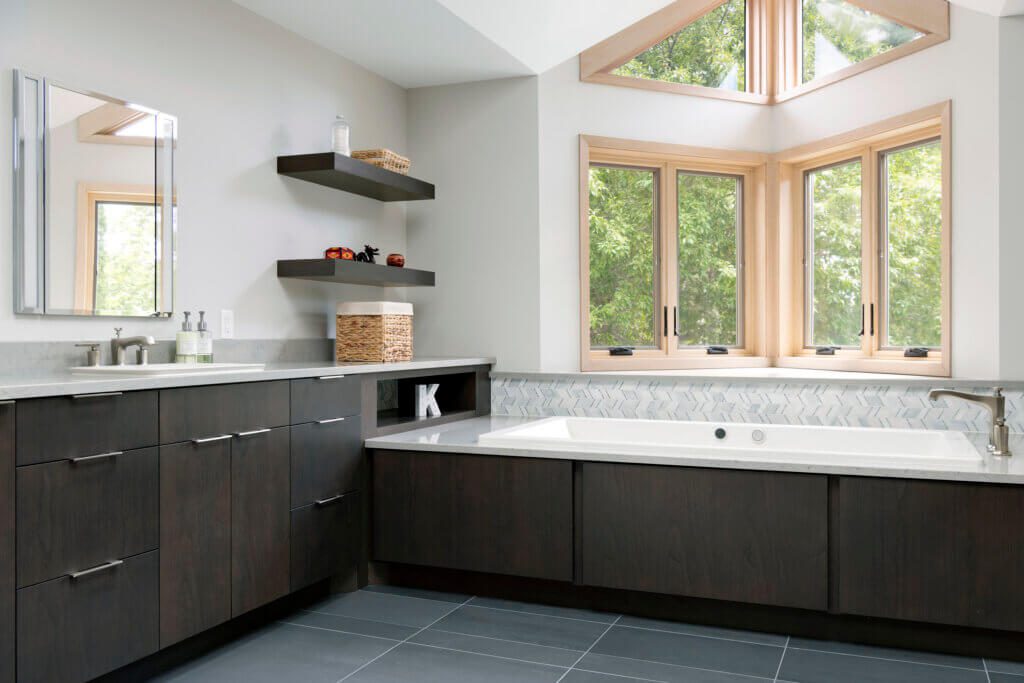 Take Stock of Your Storage Needs

What's the current square footage of your bathroom, and how much storage do you need? A bathroom footprint can fill up quickly, so planning for storage is something you want to think about as early as possible. Go through your daily routine and note things that don't have a designated place (i.e., if your hairdryer is always sitting out, it needs a place to go!)
Inspect Your Mechanicals
Note the age and shape of your mechanicals, including:
the water pressure of your shower and sink
age of your water heater
the ambient temp of the room
the ventilation in the room
This is also an excellent time to note any plumbing elements you're planning to move.
Write all of this down, and communicate it to your remodeling company so they can incorporate these bathroom remodeling materials and plans into your scope. You don't want a beautiful shower that doesn't offer comfortable water pressure.
Gather Inspiration to Create a Wishlist
Use Pinterest, magazines, and your Houzz account to gather images that reflect the kind of bathroom you want.
Even better, think through bathrooms you've particularly enjoyed. Jot down elements you loved, even if they seem minor. You can also visit a plumbing showroom to see (and feel!) what options are out there. Keep your priorities in mind during this process!
Then, use these bathroom remodel ideas to create a wishlist. This list will come in handy when you work alongside a design-build remodeling company to try and recreate some of your dream elements in your new bathroom.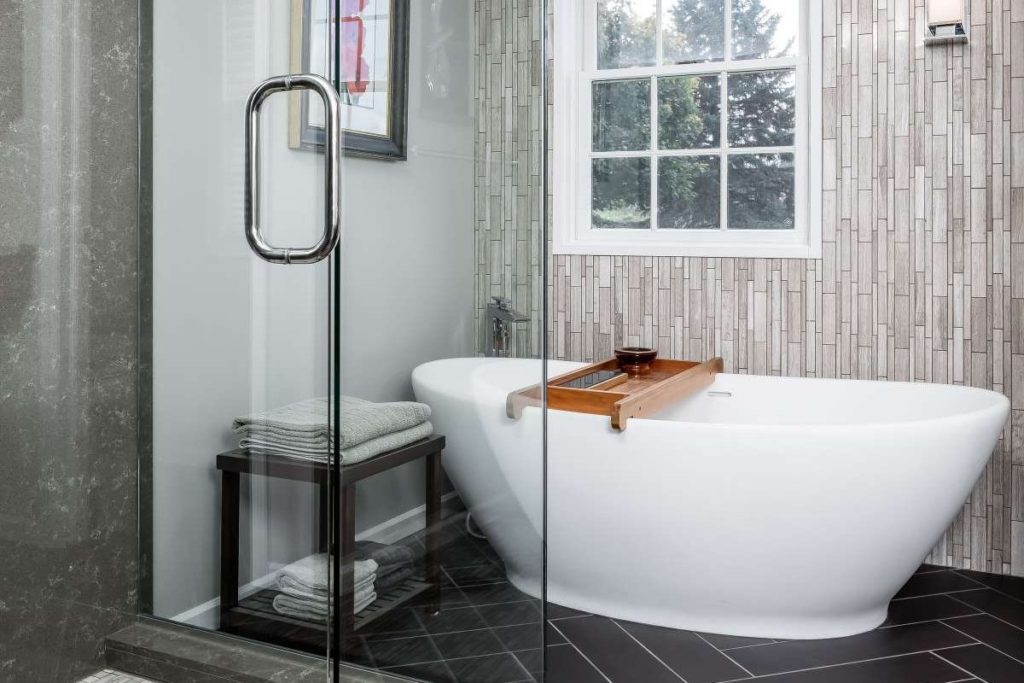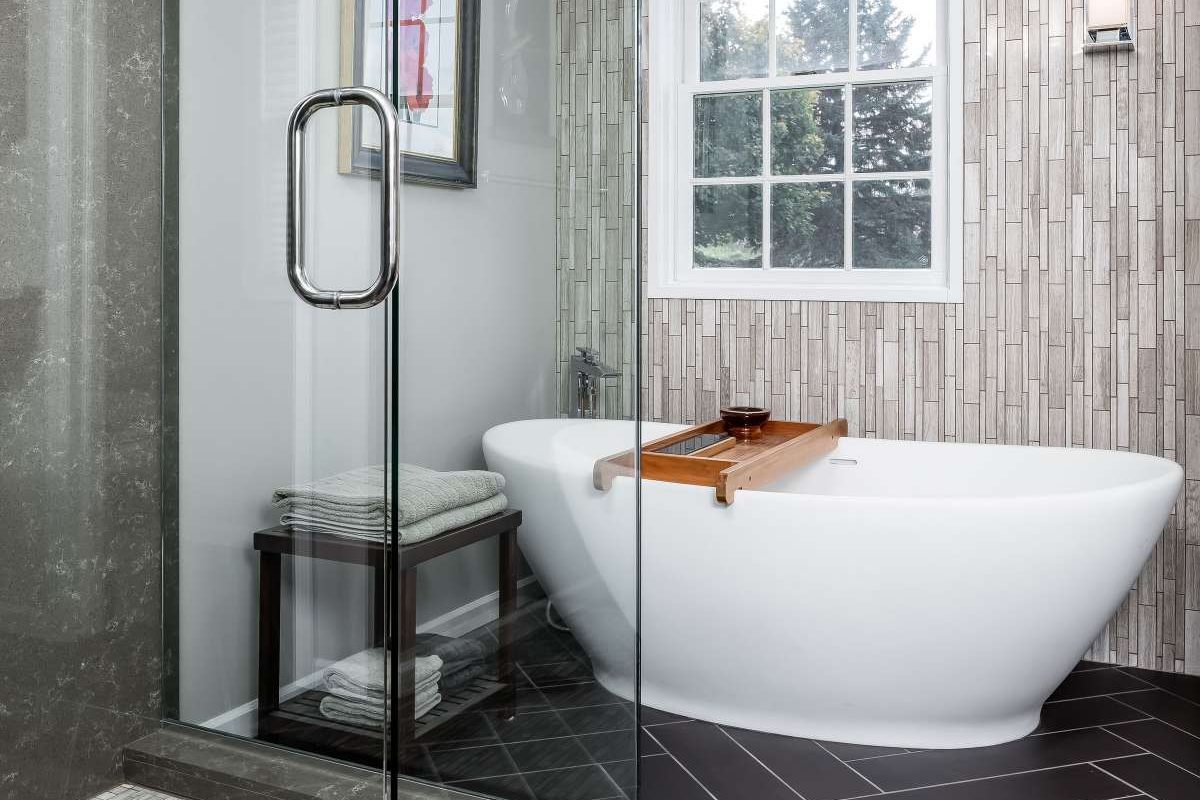 Assemble Your Budget
Use your wishlist to create a realistic budget that matches what you're comfortable spending. While many people think they can pay out of pocket, a better bet is to look at financing options. Bathroom remodels pricing can quickly add up, especially with tiles, mechanicals, and infrastructural needs. Many sites will tell you to look at a price per square foot, but Bluestem Remodeling offers case studies that show you what kind of renovation you can have for a ballpark number.
Keep in mind: a luxury space will cost more. Plumbing fixtures, materials, and even something as simple as a customized shower pan size can drive the cost.
Related Reading: Designer Tips for a Luxurious Bathroom Renovation
Set a Target Completion Date
Do you have an important holiday or family function coming up? You're not going to want it disrupted by a bathroom remodel. Think about your calendar and come up with your target completion date before you connect with a design-build team. That way, we can let you know if that's realistic in our schedule. Honest communication makes this process smooth and easy.
Remember, It's a High Traffic Area
Bathrooms see a lot of use throughout the day, so it's worth investing in fixtures you enjoy. Even something as simple as faucet handles can make your bathroom feel more luxurious and personalized.
Experience the Joy a Transformation Can Bring
By working through this bathroom remodel checklist, you'll feel more organized and open to a remodeling project. And once you experience life in a transformed bathroom, all the hard work and pre-planning will be worth it!
Check out our gallery of bathroom remodels to start gathering your inspirations. Then, contact our Bluestem Remodeling team to discuss your project set up an initial consultation and see what we're all about.