For many, the past several months have brought a higher level of stress than usual. If you're looking to create a place to relax in your home, a luxurious bathroom renovation may be the perfect way to decompress!
With people staying at home and limiting their outings, it's especially important now to create a retreat within your home that can help you escape and recharge. The Bluestem Remodeling design team provides homeowners with ideas for how to incorporate luxury into their bathroom remodel.
Creating A Calming Experience
Beyond its aesthetic appeal, the bathroom trend of separating the bathtub from the shower is about the relaxing experience it can create. A tub, on its own, provides a tranquil area to soak – separate from your shower, to really create a calming experience.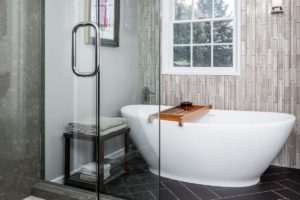 Each homeowner, however, will have a different meaning for what is relaxing, and it is important to identify those individual factors when going through the process of a remodel. What's important to one person isn't always important to another.
Ask yourself: what do you need by your tub for a relaxing experience? A glass of wine, a cup of tea, or a book? If you're looking for relaxing scents, an aromatherapy bathtub might give you the experience you're looking for. Keep these experiences in mind as you are finalizing your bathroom's design.
Go Custom
Customization is the ultimate luxury when designing a bathroom. Whether it's incorporating new technology, such as digital shower controls, which allow you to personalize your shower experience, or customized vanity or medicine cabinet storage for your individual needs, personalized details will give you a one-of-a-kind bathroom design that is perfectly tailored to your own wants and needs.
Pay Attention to All Senses
Your bathroom should be beautiful and functional, but for a truly luxurious bathroom design, you'll also want to pay attention to the details beyond how things look.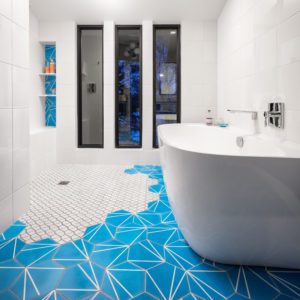 Cold floors are definitely not relaxing, so including in-floor heating is a great way to create a calming environment to unwind in. Creating a layered lighting plan will also help provide control and customization to a bathroom's overall design. You want lighting options that you can adjust to your own tastes. Your design team can help you create a lighting plan that provides illumination for different areas, both your utilitarian and decorative needs, creating the perfect aesthetic.
When it comes to colors in the bathroom, we encourage homeowners to look inward, not at what's trendy. White might feel peaceful and calm to some people, but sterile and cold to others. Don't be afraid to go against the norm of what is typically spa-like. Choose colors that make you feel good and cater to your sensibility.
Don't Forget the Details
Bathroom designs have so many choices to make it easy for homeowners to get overwhelmed. The many details and logistics all need to work harmoniously together.
Luxurious design is about seamless details that look easy, but in reality, are very difficult to achieve. It is important to work with trusted design professionals who can help you define your needs, tailor a design plan to meet those needs, and pull it all together to create a beautiful and relaxing result.
Talk to our experienced team at Bluestem Remodeling to get started on designing a luxurious place to recharge! Contact us today.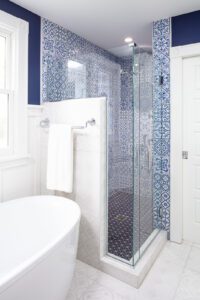 .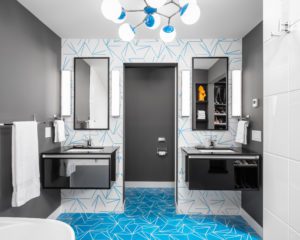 .