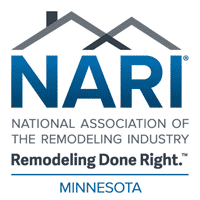 NARI Welcomes new Master certified remodeler in Twin Cities
---
St. Louis Park, MN, November 9 – Bluestem Remodeling is pleased to announce that Timothy Ferraro has recently achieved the prestigious Master Certified Remodeler status.
A Master Certified Remodeler (MCR) designation proves the remodeling contractor's superior knowledge, dedication to the industry, and community involvement.
NARI's MCR program measures skill and expertise valued not only by other professional remodelers, but by consumers as well. Highly respected by those who have achieved the designation, the MCR program identifies professional remodelers who have undergone comprehensive review and testing in areas of business management, ethical conduct, and technical skills.
The NARI certification program assess the knowledge and skills of the remodeler in over 20 remodeling task areas including business methods and practices, building codes and construction law, planning and building site layout, and all trades skills required in remodeling your home.
Attaining this certification requires the candidate to have attained the Certified Remodeler (CR) designation and maintained it current for a minimum of 10 years. The candidate must also have achieved at least one additional NARI Certification, and have served in a NARI chapter or a community leadership position. In addition, Master Certified Remodelers are bound to abide by the NARI Code of Ethics and the NARI Standards of Practice.
NARI is a professional association whose members voluntarily subscribe to a strict code of ethics. Consumers may wish to search www.NARI.org to find a qualified professional who is a member of NARI.
About NARI
The National Association of the Remodeling Industry (NARI) is the premier association of remodeling professionals and industry experts dedicated to advancing the professionalism of the remodeling industry and educating the public on the benefits of using a qualified professional. NARI has 6,000 member contractors, suppliers and service providers and 47 chapters across the U.S. NARI members adhere to a Code of Ethics and together as an industry promote "Remodeling Done Right™. Learn more about NARI and how to find a qualified professional remodeler at NARI.org.
About Bluestem Remodeling
Bluestem Remodeling, partnering with homeowners for 20 years, utilizes a full-service design-build process that focuses on strong collaboration and close communication. From initial design to final construction, Bluestem's uniquely attentive team of specialists, designers and craftspeople guides homeowners through each step of the remodeling journey leading to finished spaces that reflect their clients' individual needs, aesthetics and values. Bluestem strives to create great remodeling experiences for their clients while delivering lasting results that homeowners will love.