Are you interested in diving in and finally tackling that long-anticipated home renovation project on your list? Before picking paint colors or finishes, you'll need to decide which remodeling approach best fits your needs.
You have two main options: a Design-Bid-Build model or a Design-Build one.
Let's take a closer look at both to see how they differ. The first begins with hiring an architect.
Why Hire an Architect?
One way to approach a remodel is to hire a stand-alone design firm to provide detailed plans. Then you can have a separate contractor bid and build the project. This design-bid-build process often happens when you "hire an architect."
You might consider hiring an architect if you want to do the project in stages. While many Minnesota architecture firms can draft plans for a remodel, we find it most efficient to tackle the whole project ourselves.
What Is A Design-Build Company?
In the design-build model, both the builders and the designers are a fully-integrated part of a single team. There is an elevated level of collaboration, with both parties doing regular site visits, problem-solving, and communicating with each other and the homeowners throughout the renovation process.
This approach provides peace of mind. A respected design-build remodel is comprehensive—from start to finish. According to Bluestem Remodeling owner Timothy Ferraro, "There should be a constant flow between the building specialist and the designing specialist. As a design-build company, we work together as a team, and we own the results."
What Can I Expect During The Design-Build Process?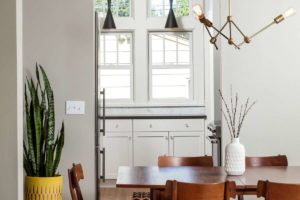 You decide you want a kitchen remodel. What happens next? Well, we begin with an initial meeting to ensure all parties are on the same page and that we're a good fit for your vision.

"I always ask homeowners to tell me some of their biggest concerns or questions right off the bat," notes Ferraro. Discussing these questions helps the homeowner understand the journey ahead and what is needed to get started, mitigating concerns they may have.
Some common concerns include:
How much will this cost? "It is important to make sure that the homeowner's budget is realistic to meet their desired goals," Timothy says.
What if there are surprises? "With a high-quality design-build team, you shouldn't be experiencing many, if any, surprises."
Will I know what's going on throughout the process? "Lack of communication is a common concern. We listen to our homeowners, making sure they aren't ever dismissed or being talked down to, and are constantly aware of what is happening in their home."
Is this project going to drag out? "We set expectations and timelines right at the beginning," says Timothy. " Giving homeowners a definitive, realistic timeline reassures them that our team will get the job done when we say we will."
Learn more about how our Bluestem Guarantees addresses each of these reservations!
Ultimately, the first steps of the design-build process should set expectations, alleviate concerns, and outline an organized method. This way, you can feel confident (and excited!) about the journey ahead.
Put Your Home In Good Hands With A Minnesota Design-Build Company
At Bluestem Remodeling, we believe in a comprehensive, collaborative remodeling approach within our team and with our homeowners. As a Twin Cities remodeling firm, we love transforming spaces to fit your needs, aesthetics, and values.
Talk to us today to learn more about the Bluestem Difference. Then, let's get started on your dream Twin Cities home remodeling project!