Whether you want to add more counter space and storage or create a master chef area for all your culinary concoctions, a kitchen island may have crossed your mind. But with so many styles available, how do you choose the right design for your home?
Before we help you answer this question, we want to tell you a little secret: not every kitchen should have an island.
The reason? Depending on the shape and size of your kitchen, an island might create more frustration than function. For example, suppose you have a narrow kitchen. In that case, an island can get in the way, disrupting the flow of traffic and activities you enjoy inside that space (i.e., cooking, entertaining, and helping the kids with their homework).
So before you can decide on the right type of island, you first need to address a difficult question: do I have the right space for one?
To do so, here are a few helpful tips:
Consider the size of the kitchen
You want to ensure the island fits comfortably inside the space without overcrowding or blocking any essential areas. Think of the clearance around the island as a hallway for people to move in and around.
Now ask yourself: Is there enough room to move around with ease? Or would an island create unnecessary road blocks?
Understand the shape and layout of the kitchen
Most kitchens have one of the following layouts:
Straight:

All appliances, cabinets, and utilities are stacked against one wall facing toward the room.

L-Shape:

For small-to-medium-size kitchens, an L-shape creates a work triangle that allows you to multitask with preparation, cooking, eating, and cleaning.

U-Shape:

This typically resembles a horseshoe design.

Open:

Open kitchen concepts remove the invisible barrier that designates kitchens from other living areas, such as the living room, office area, main hallway, etc. Most loft homes utilize this kitchen design.

Parallel

(also known as Galley): Parallel shapes are achieved when kitchen appliances and counters face one another, creating a parallel line for you to work in.
With this in mind, consider how an island will fit into and complement your space.
Determine the primary use of the kitchen island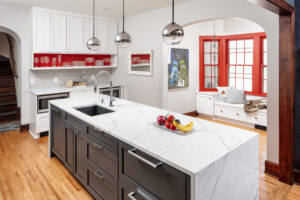 By determining the primary use of your kitchen island, you can choose the right features and design elements to make it functional and stylish.
Here are a few questions to ask yourself:
How do you like to cook—with multiple people or solo?

Do you eat as a family?

Will you use this space for work or homework?

Are you planning to entertain friends?
With this information, you can work with an experienced home remodeling team to decide whether a kitchen island will fit your space or if another design would better suit your needs.
Top Kitchen Island FAQs
Our experts at Bluestem Remodeling answer your top questions on choosing the size, layout, and type of kitchen island for your home.
What are the different types of kitchen islands?
There's no denying that kitchens have become more sophisticated, replacing the traditional kitchen table. They also provide extra counter space, storage, and a central gathering place for family and friends.
Here are 5 popular types of kitchen islands:

Built-In Kitchen Islands: A built-in kitchen island is a permanent fixture in your kitchen, which typically includes built-in appliances, such as a sink, stove, or dishwasher, as well as ample storage space.
Portable Kitchen Islands:

Also referred to as a

"rolling" kitchen island

or butcher block, these options include wheels or casters on the bottom, making them easy to move. Rolling kitchen islands are usually an option for smaller spaces where you need the ability to relocate the island to perform other activities.

Two-Tiered Kitchen Islands:

These types of islands feature two levels, with one level for food preparation and another for dining or entertaining. Some may also include built-in appliances while leaving the other level open for seating and storage.

Curved Kitchen Islands:

Curved islands provide space for seating, storage, and an extra layer of safety in that there are no sharp edges to worry about your kids running into.

Peninsula Kitchen Islands:

Most people refer to these as L-shape since they connect from an existing wall or countertop to create a divider, which separates the kitchen from the main eating area.
Are kitchen islands still in style?
Absolutely! Islands can make cooking more collaborative and improve community interaction while still defining the space. Essentially, it opens your kitchen up to new experiences and functionality that's out in the open (allowing you to engage with others) vs. facing a wall.
What do you call a kitchen island with seating?

An island is an island, with seating or not. But people will often call an island with seating a "breakfast bar". A breakfast bar is really just a casual dining space. It can be part of an island, or, part of a peninsula (a section of counter that is attached to a wall).
To put it simply, an island can be a breakfast bar, but a breakfast bar does not have to be on just an island.
What is a good size for a large kitchen island?
Depth is essential for designing a kitchen island. For example, your typical kitchen cabinetry is 24 inches deep, so, if you want a functional work space, you'll need at least that.
Just remember, if you add functions, such as a sink, the island must also get bigger. For example, adding a sink will reduce the amount of available countertop space you have, preventing you from using the island as a workspace or eating area.
What is the widest a kitchen island should be?
In terms of width, islands can get too big and become hard to get around. Therefore, the general rule is max 42 inches wide; however, you must also allow at least 36 inches of open space around the island. If you have a very long or very large kitchen, consider having two islands vs. one.
What type of lighting is best for a kitchen island?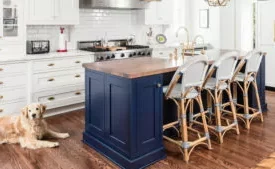 When choosing a kitchen island, lighting is crucial to achieve optimal functionality and ambiance. For instance, some lights are bright and focused—creating a defined area. Some are soft and general. Some could cast shadows on the counter, disrupting its purpose.
This is why determining the primary use of your kitchen is essential. This will ensure your island is appropriately lit for the activities you plan to do inside the room and while using the island.
Do you work from home on your island? If so, you may need direct light for reading, or dimmers to prevent glare. If this will mostly be a hangout space with friends, then softer, more inviting lights could be better. There are many styles of pendant lights that could work.
Or, if you want the lighting to show up everywhere, consider ceiling lighting that illuminates the entire area.
How many lights should be on a kitchen island?
Many will tell you the rule of three, but honestly, it depends on the size of the light fixture and the amount of light it throws. Working with a design expert can help you choose the best lighting for your space and ensure it enhances the room vs. creating visual barriers.
Reimagine Your Kitchen Space
Kitchen islands are a popular addition to modern homes, providing extra counter space, storage, and a central gathering place for family and friends. But with so many different types of kitchen islands available, it's often difficult to know where to begin.
To help you feel confident in your choice, contact us today! We offer an in-depth yet effective 5-step process to ensure your satisfaction and help you build your dream design.
For kitchen design inspiration, browse our collection of before and after photos. You can also follow us on Instagram for more kitchen island ideas.