The Twin Cities real estate market remains tumultuous. If you're considering selling your property, which remodels should you invest in for the highest ROI?
Timothy Ferraro-Hauck, Bluestem's owner and CEO, and Ed Schaefer, a Realtor with RE/MAX Results since 2003, provide their expert opinions on what adds value to a home.
Why Should I Reinvest in My Home?
What would you do to your house if you knew you were staying there long-term? Why not do it now so you can enjoy it?

"I'll start this way: It's amazing how many people live in their homes without fixing them up to their preferences," said Ed immediately. "Once we prep homes to go on the market, homeowners will look around and ask, 'why didn't we live this way?'"
Think about a car: as you drive it, you use it up, and its value decreases. Over time, you have to repair or replace certain aspects.
Living in your house is similar. You're using up its elements: carpet, flooring, paint. To expect you will sell your home without reinvesting back into it is a no-win situation.
"You can't buy your house, use it for ten years, do nothing, and then expect a competitive ROI," says Timothy. "You have to invest back into your house. But do it while you're going along. Don't wait until the end—enjoy where you live."
Not only that, but investing in your home is also an investment in your community. Your home is part of the larger infrastructure. When everybody does it, our towns and neighborhoods are stronger and more valuable.
Okay, so where in your home should you focus your remodeling energy?
The Big Three: Kitchens, Bathrooms, and Floors
When discussing home remodels in preparation to sell, homeowners tend to focus on these three areas: kitchens, bathrooms, and floors.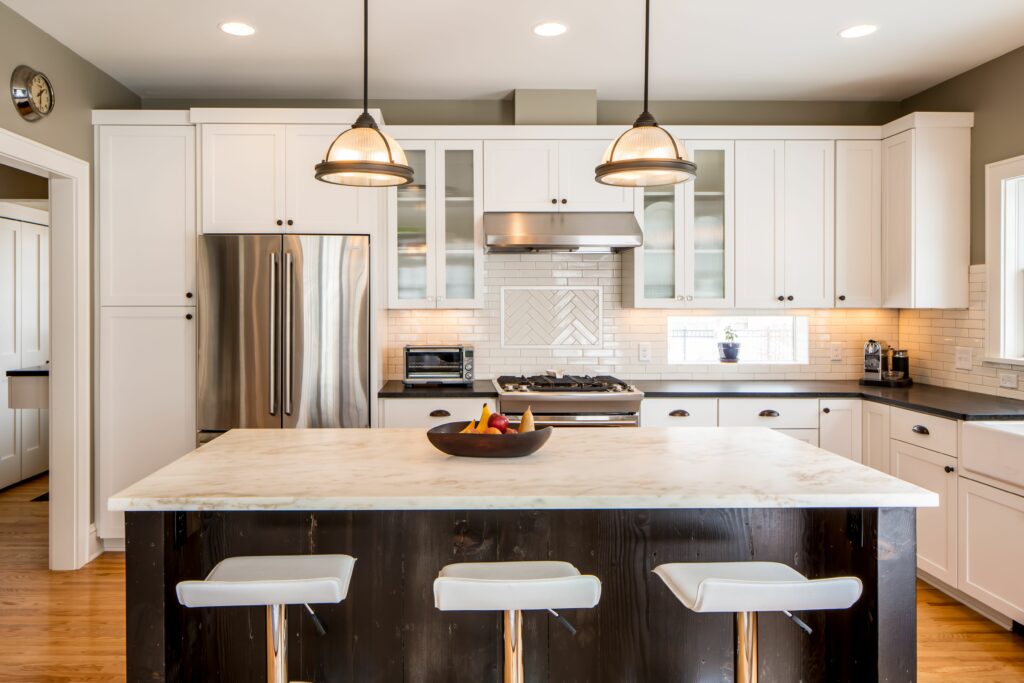 Kitchens
A well-done kitchen remodel can be the best way to increase home value. Because most homeowners today tend to prefer an open floor, kitchens are a part of the main level layout in a way they weren't in the past. Kitchens are increasingly becoming a focal point of the main floor, which means homeowners are investing more in their look and functionality, with plenty of space for friends and family to gather comfortably.

Bathrooms
If your bathroom feels dated, dark, or tired, it's time to refresh. A light and bright design complemented by a well-placed vanity, light fixture, or unique bathroom wallpaper can make this room feel bigger and clean.
"If you think you'll need to do it, and you can do it – then do it now. I've had so many clients tell me they're so glad they got to enjoy their remodel before selling," says Timothy.

Flooring
Engineered laminate flooring is seeing an uptick in popularity, but it's worth noting that not all engineered flooring is the same. There are different qualities and detail levels, meaning some look better than others. Understand the product you're getting before installing it.
Watch the details, such as how the floor hits the wall. Smooth, clean transitions between flooring (and at the edges) make the difference between a floor that looks good and one that looks clunky. If you can make the investment, hardwood floors remain a classic and timeless option that prospective homebuyers will love.
Don't forget to flatten the substrate (what's underneath the flooring) for a clean final look.
Pro-Tip: If you're doing engineered flooring in the basement, you want something without wood, such as LVP. That way, if it gets wet, it won't be ruined.
What about carpet?
Replace old or worn carpets before putting your house on the market. Get it out, get a decent pad, and upgrade to a mid-grade carpet. Today there isn't a carpet type that's picked on (like shag), so you're safe with almost any option out there.
Keeping Mechanicals Tuned Up
It's easy to let mechanics go, but you're best off keeping up with your repairs during your time in your house instead of waiting to repair them as you prepare to sell.
Here are a few mechanicals people tend to overlook:
HVAC systems: If your furnace is 15 years old when you buy, you should put in a new one.

Plumbing system – pipes, drainlines.

Water heater – you don't want your water heater to fail! Replacing an older model is going to save you on costs and efficiency.

Electrical – if you have a very old electrical panel, it might be time for an upgrade.
"Not only do you get the benefits from upgrading your mechanicals, but you're in a better position when it's time to sell." – Ed
A home remodeling project is the perfect time to update your home's mechanicals. Many homeowners get a new furnace or water heater during a kitchen or bathroom remodel because it means one less household disruption.
Don't forget about the sewer.
When was the last time you thought about your sewer line? Most people never think about it. That is, until 30 days from closing when an inspection reveals breaks in the pipe. Suddenly, that competitive offer is being renegotiated for $5,000-15,000 less, which can be surprising, less-than-ideal news. Luckily, it can be avoided.
If you're considering selling your home or haven't inspected your sewer line in a while, it's time to give it some attention! Call a local service to take care of it for you.
Should I be keeping up with curb appeal?
Absolutely. When preparing to sell, exterior repairs and touch-ups can be a big (and expensive) deal. Neglecting them can massively impact a future buyer's opinion of your home before they even step foot inside it. Instead of waiting until you leave, keep up with your landscaping and curb appeal, ensuring your roofing, siding, and other exterior elements are structurally sound, well-maintained, and attractive.
Impressing the Modern Homebuyer
More and more people aren't looking to purchase and fix up an older home. Instead, younger buyers are willing to pay for a move-in-ready home.
Now, you may know you should clean up the grout and add a fresh coat of paint. But here are a few easy swaps to spruce up your home before it goes on the market:
Lighting fixtures are something that homeowners tend to overlook. They bought the house and never swapped out the lighting fixture that came with it. Change them out for newer fixtures and different lights.
Fresh faucets or a free-standing vanity are easy to install without investing in a renovation. And their presence makes a big difference to the impact of the room.
Pro-Tip: If you're making updates yourself, be aware of the details. A newly-installed bathroom vanity can be an inexpensive upgrade, but shoddy workmanship will not bring the best offers on your home.
Bluestem Understands Twin Cities Real Estate
As you take stock in your home, you may need help doing these things. That's where a designer comes in! Our team can discuss how to add value to your home. Then, invest in a remodel you enjoy before getting a competitive ROI.
Even if you're not in your forever home, you deserve a comfortable space that suits your needs. As a local design-build company, we know the ins and outs of the Twin Cities real estate. If you want to update your home, now is the time to do it.