Bluestem Awarded Best of Houzz 2023
The annual people's choice award recognizes professionals among the Houzz community who stand out in both talent and customer service.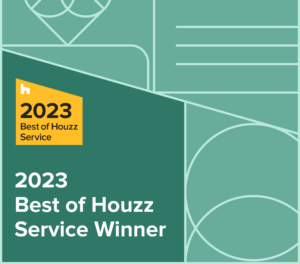 [Minneapolis, MN], February 15, 2023 – Bluestem Remodeling of St. Louis Park , MN has won a "Best of Houzz" award for Customer Service on Houzz®, the leading platform for home remodeling and design.
The well known Twin Cities design build firm was chosen by the millions of homeowners that comprise the Houzz community from among more than 3 million active home building, remodeling and design industry professionals.
Best of Houzz awards are given annually, in three categories: Design, Customer Service and Photography. Design awards honor professionals whose work was the most popular among the Houzz community. Customer Service honors are based on several factors, including a pro's overall rating on Houzz and client reviews submitted in 2022. Architecture and interior design photographers whose images were most popular are recognized with the Photography award.
"Best of Houzz 2023" badges appear on winners' profiles as a sign of their commitment to excellence. These badges help the more than 65 million homeowners and home design enthusiasts on Houzz to identify popular and top-rated home professionals for their projects.
"We are so honored to have received this recognition and award, and grateful to the homeowners who we worked with this past year for entrusting us to work in their homes," says Timothy Ferraro, Bluestem remodeling owner and founder.
"We are thrilled to highlight incredibly talented and customer-driven pros from the Houzz community through the Best of Houzz awards," said Liza Hausman, vice president of Industry Marketing for Houzz. "The Best of Houzz awards provide a distinctive mark of credibility for homeowners looking for pros on Houzz. We congratulate all the winners for everything they've accomplished in 2022 and look forward to seeing their work and positive reviews in the year ahead."
See more of Bluestem's work on Houzz at www.houzz.com/pro/bluestemremodeling.
About Bluestem
Bluestem Remodeling is known for its full-service and customized design build process, focusing on strong collaboration and close communication with homeowners. The team has been delivering high-quality, high-value projects for almost 25 years and is passionate about creating great remodeling experiences for Twin Cities homeowners.
From initial design to final construction, Bluestem's integrated team of specialists, designers and craftspeople guides homeowners through each step of the remodeling journey, leading to finished spaces that reflect each client's individual needs, aesthetics and values. Bluestem strives to create great remodeling experiences while delivering lasting results that homeowners will love.
About Houzz
Houzz is the leading platform for home remodeling and design, providing an all-in-one software solution for industry professionals and tools for homeowners to update their homes from start to finish. Using Houzz, people can find ideas and inspiration, hire professionals, and shop for products. The Houzz community is made up of millions of homeowners, home design enthusiasts and home improvement professionals around the world. Houzz is available on the web and as a top-rated mobile app. For more information, visit houzz.com. Houzz is a registered trademark of Houzz Inc. worldwide.