As you dream about a home remodel, you envision a beautifully transformed space. But to achieve a good end result, you want to make sure the work is done right, done according to the law, and built to last.

Before any work can begin, your project must have the correct remodeling permits.
Not feeling confident about this aspect of the work? Our Bluestem team breaks down the basics.
How do Minnesota Remodeling Permits Work?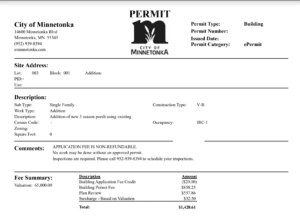 Do you live in a house or a condominium? Depending on the home, different permits, rules, and requirements exist.
Pulling permits can get a bit complicated because there are multiple elements involved. The application, plans, and specifications will all be needed. Understanding the timing and review process for each city is important. Knowing the ins and outs of the permitting process means the project can get started efficiently and without delay.
Zoning Requirements
Now, zoning requirements may come into play if you are changing the outside or the size of your home. Based on where you live, zoning could limit what you can do, including:

How close the building can be to the edge of the lot (setbacks).

How big can you build home additions.

Types of materials allowed.
Your remodeling contractor needs to understand zoning requirements before beginning the planning of your project. Otherwise, you won't be able to get your permit application past the zoning review, and all the hard work and dreams for a great design could be undone.
"If you have a contractor who says they'll work without permits, be wary! That's someone who isn't looking to obey the law, and you don't want to take that risk with your home."
How are Minneapolis, St. Paul, and Duluth Different?
While codes are adopted by Minnesota State law and should be cohesive across cities, Minneapolis, St. Paul, and Duluth specifically have the right to adjust their requirements.
As professional Twin Cities remodelers, our Bluestem team effectively navigates these unique requirements so we can start transforming your space for the better.

Learn more about City of Minneapolis building permits.
What Type of Work Requires a Remodeling Permit?
The good news is that most minor home repairs do not require permits.*
But remodels that affect the use of the house, mechanical systems, structural features, openings, or disturb a significant amount of the house do require permits.
"If you have a contractor who says they'll work without permits, be wary! That's someone who isn't looking to obey the law, and you don't want to take that risk with your home," notes Timothy Ferraro, Bluestem Remodeling's owner.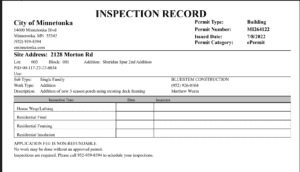 As a homeowner, you can pull the permits yourself, but in doing so, you are assuming the risk. If there's something wrong, it's your responsibility. Too often, this can cause significant disruptions to a project.
*be sure to check with your local government or the State Department of Labor and Industry to know what qualifies as a "repair."
So, What Permits Will I Need?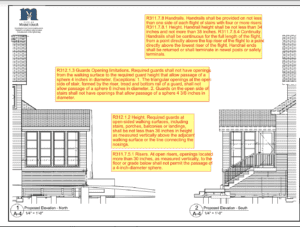 Almost all remodels require a building permit, including kitchens, bathrooms, and additions. But you shouldn't need to worry about that — your general contractor should be submitting the appropriate paperwork.
Then, each trade – electrical, plumbing, and HVAC – will need a separate permit. In this instance, the professionals in those respective trades should pull their own permit.

Note: Work on St. Paul or Minneapolis homes requires additional licenses for heating and plumbing. That means a plumber that works in Minnetonka can't necessarily work in the core Twin Cities.
What Does it Take to Get the Proper Remodeling Permit?
First, the appropriate paperwork needs to be submitted to the city. This includes the permit application and plans for the work. That's right, to get a permit, you first need to have prepared plans.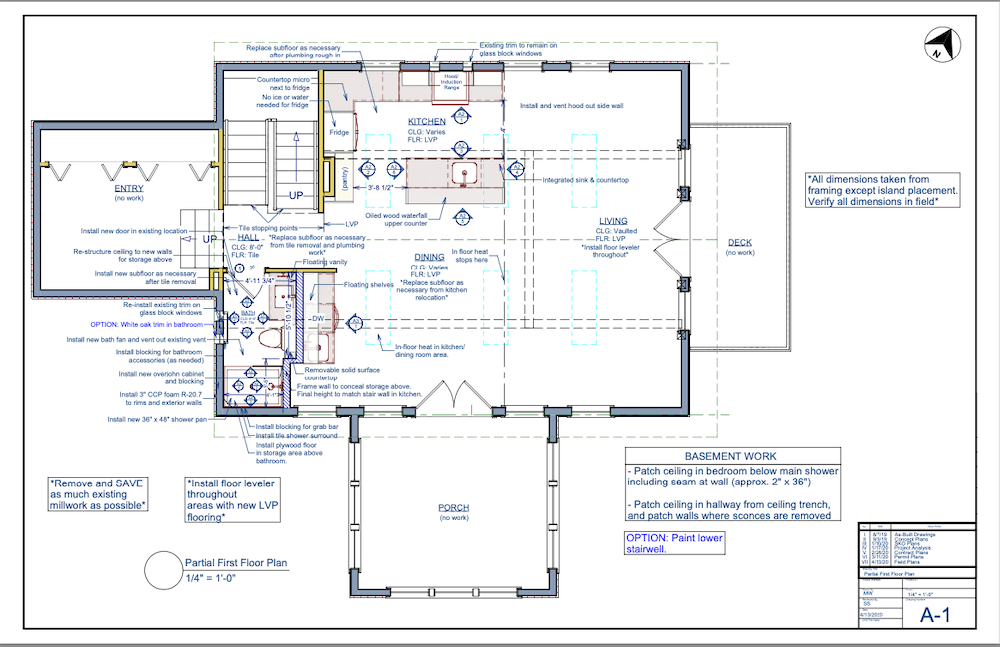 Depending on the city and the project, the plans could be simple. But today, cities are requiring more documentation on plans than ever before. They may want to know details about code compliance, structural changes, and even specific products, especially if it's a building material they don't know. In this instance, you'll have to supply additional information, such as an installation manual.
If there's extensive structural work planned, an engineer may be pulled as part of the design team.
When it comes to commercial work, which can sometimes include condo remodels, you might need to have a licensed architect or interior designer sign off on the scale and specifics of the work.
How Long Does Pulling Permits Take?
Getting remodeling permits typically takes a minimum of 2-4 weeks, depending on how backed up the office is.
If the application doesn't have enough information or the office has questions, they may send it back. Then, you'll have to re-submit with more documentation or altered plans, thus lengthening the approval process.
Collaborate with a Professional Minnesota Home Remodeling Company
As you can see, the most effective choice to wade through all of this paperwork is to hire a professional remodeling company to acquire the permits properly so then they're ready to begin the work!

At Bluestem, it's our job to handle these logistics for homeowners so we can move forward. Our team routinely pulls permits — we're knowledgeable and confident about the process and evolving requirements.

If you're looking to change your home, peek at our work and see what inspires you. Then, reach out for a consultation, and start a beautiful collaboration.