Giving yourself a clean, efficient place to do chores is one of the best ways to improve your day-to-day life in your home

Below we share some of our favorite laundry room ideas for transforming this room into a comfortable, efficient, and visually pleasing part of the home.
Function, Function, Function
Dreaming of creating a pleasing, adorable, Pinterest-esqe laundry room? That can happen!
But what's the point of cuteness if it doesn't work for your needs?

Before embarking on a laundry room remodel, think about how you plan to use the space.

Do you prefer to sort and fold the laundry right there? Or do you prefer to toss everything in a basket and sort it in front of a TV? Do you need a place to iron – or do you rarely actually do that? Thinking about questions like these will help form the framework and direction of your entire design.

Functionality really is key. Your new space must serve your lifestyle and needs. It should be comfortable and should work well. Once we get the practical pieces in place, then we can move on to making it pretty!

Recommendation #1: Make a list of the tasks you plan to do in the laundry room. First and foremost, the design needs to support these activities.
Making the Most of What You Have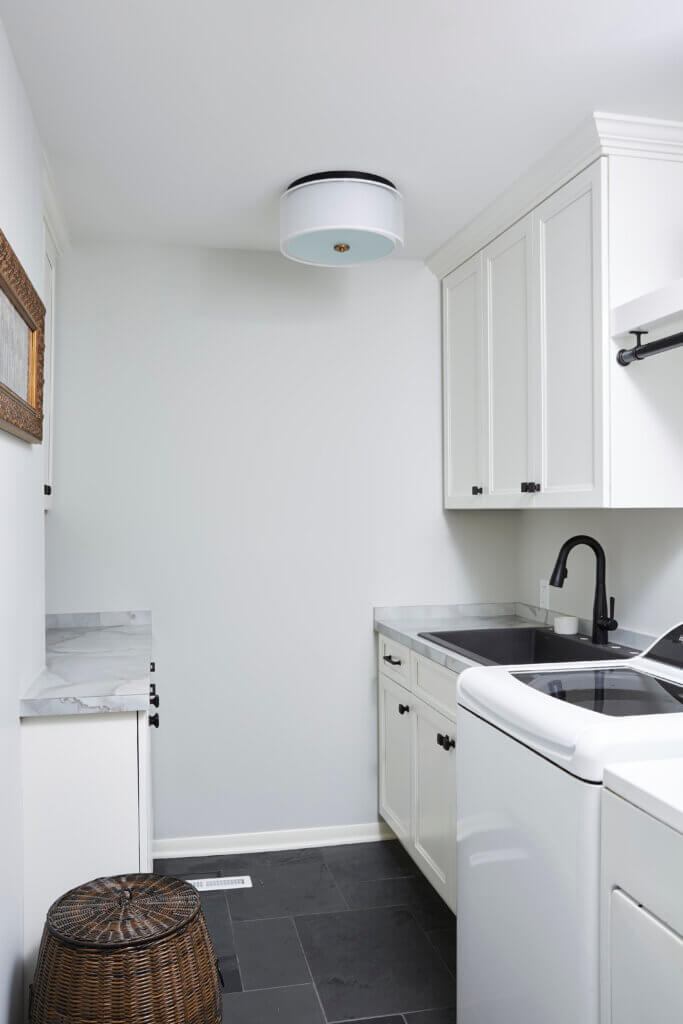 Laundry rooms are notoriously small, so you need to make the most of your space.

Even if you have a fairly large area to work with, it's still crucial to think ahead about how you plan to use the room. Once you know what you need, your designer can help you maximize the space to support those needs.

As you think about how to organize a laundry room, here are some tips and recommendations:

Add in a folding top for your sink. That way, you can keep your utility sink

and

have a place to sort, spray, and fold.

Consider stacking your washer and dryer to gain back floor space.

If you don't use your utility sink, consider getting rid of it.

Wall-mounted drying racks or pull-outs with rods can be great for hanging hand washables.
Recommendation #2: Prioritize the list of activities you want to do in your laundry. This will inform design decisions and layout options to determine your best plan.

Closed Cabinets or Open Shelves?

Laundry rooms are highly functional spaces. They exist because there is a task to be done, and with that chore comes a lot of supplies that aren't always pretty (bleach bottles, stain removers, irons, etc.).

It is important to consider: Do you want to look at your laundry room accouterment?
Or hide it behind doors?

This is one of the biggest questions to tackle in a laundry room remodel. Open shelves can show off glass jars and other fun decor, but do you really want to take the time to style all of those things? Closed cabinets for the laundry room allow you to tuck away hampers, baskets, and supplies.
(Pro tip: Although utility shelves can be very cost-friendly, finished, open shelving is often more expensive than cabinets with doors.)

Whether you prefer having open shelves to decorate or closed cabinets to conceal, your design team can help you find the best storage options for your space and aesthetic.

Recommendation #3: Decide what level of clutter you are willing to deal with.
Laundry Room Plumbing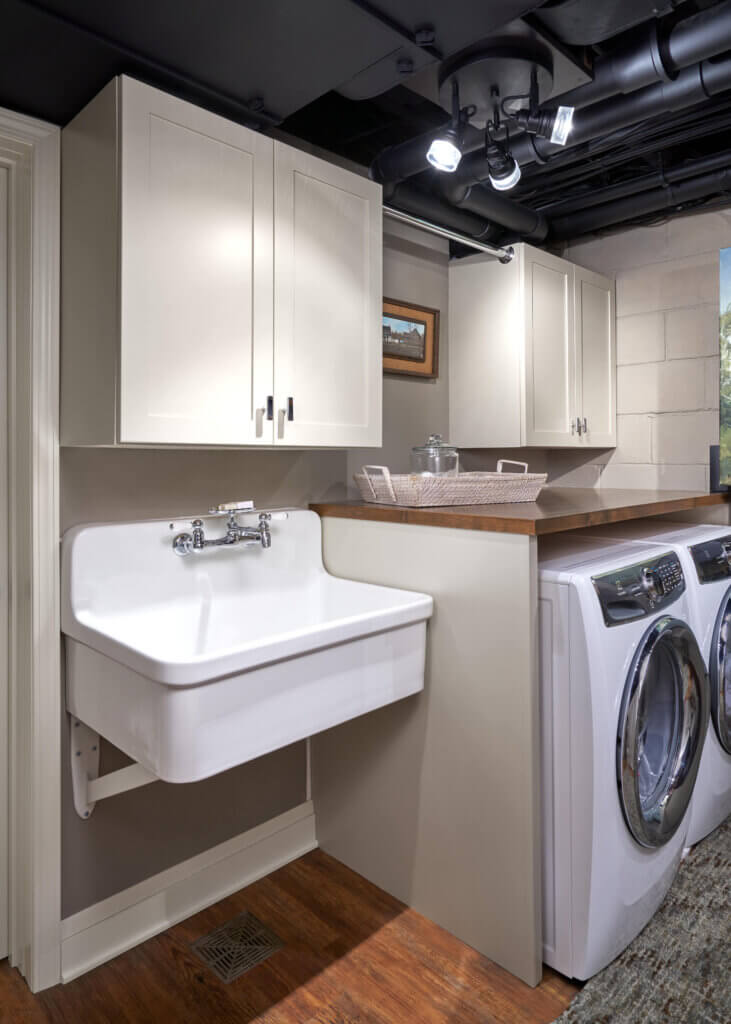 If your laundry room is in the basement – and older – chances are ugly plumbing is a thing.

If you're completely gutting your space, that plumbing could be hidden in a new wall and below the floor. This will give the room a much more finished feel. If the laundry is above basement-level, chances are the plumbing is already in the wall and not too much of an eye sore. Either way, if the plumbing is to be changed, make sure it is done by a qualified plumber.
What about drain options?

In older homes, the washer may drain into the sink. While this might be unsightly, it gives the wash water a chance to drain out more slowly where pipes are smaller. Going to a "drain box" in the wall will visually clean things up, but it has to be coupled with the right size drain lines to handle the sudden discharge when the washer finishes its cycle.
Pro Tip: Newer, high-efficiency (usually front-loading) washers use considerably less water than the older top-mounting style. Save water, energy, and a potential backup, by upgrading your washer.
If you're just doing more of a refresh, and your existing laundry has exposed plumbing, you may need a more innovative solution to hide the plumbing, or creative room decorations.

One trick you can sometimes utilize is to strategically place canvas art to hide a washer box. Not only does it bring visual interest into the room, but it's also easy to pull it off the wall if you need to access the washer box, depending on placement. You could also use decorative baskets to store items while simultaneously hiding plumbing parts.

Recommendation #4: Work with your designer to explore plumbing work investment options or other strategies.
Good – Better – Best
Getting an old basement laundry to be clean and refined will be a bigger project than just tuning it up – and may involve taking up concrete and framing walls. A finished ceiling might involve soffits and other complicated framing – but guess what? You have choices!

When it comes to laundry rooms in the basement, there are different levels of finish – which also means variable levels of effort and associated cost.
Some examples:
– Clean up the walls and the plumbing, but leave the ceiling unfinished.
– Paint all the ducts, joists, and wires on the ceiling – industrial look.
– Leave the floors concrete, or opt for a simple painted floor.
– Only finish part of the room (leave clean concrete or block walls alone – or simply paint them).
Recommendation #5: Decide on the level of finish you want.
Bringing Your Laundry Room to the Next Level (Literally)
Many homeowners are curious about moving their washer and dryer to the second floor. This can be a great option.

However, it may also be surprising how much space these machines actually require, even when stacked. Something as space-effective as a laundry closet needs to be at least 40-50 inches deep.

To have a big, luxurious laundry room, you will need a lot of real estate. Sometimes space is simply not available elsewhere in the house to add laundry, or existing plumbing cannot be moved. In these cases, the best solution is to fully maximize the space you already have.
(Pro Tip: Make sure to have a "disaster pan" installed under the washer, if laundry is moving above the basement. This provides a rim and drain that will capture water from a leaking washer and direct it safely away – avoiding destroying the ceiling of the floor below.)
Recommendation #6: An experienced design professional can guide you through the spacial and technical planning for the relocation of a laundry room and determine if it's possible.
The Luxury of Light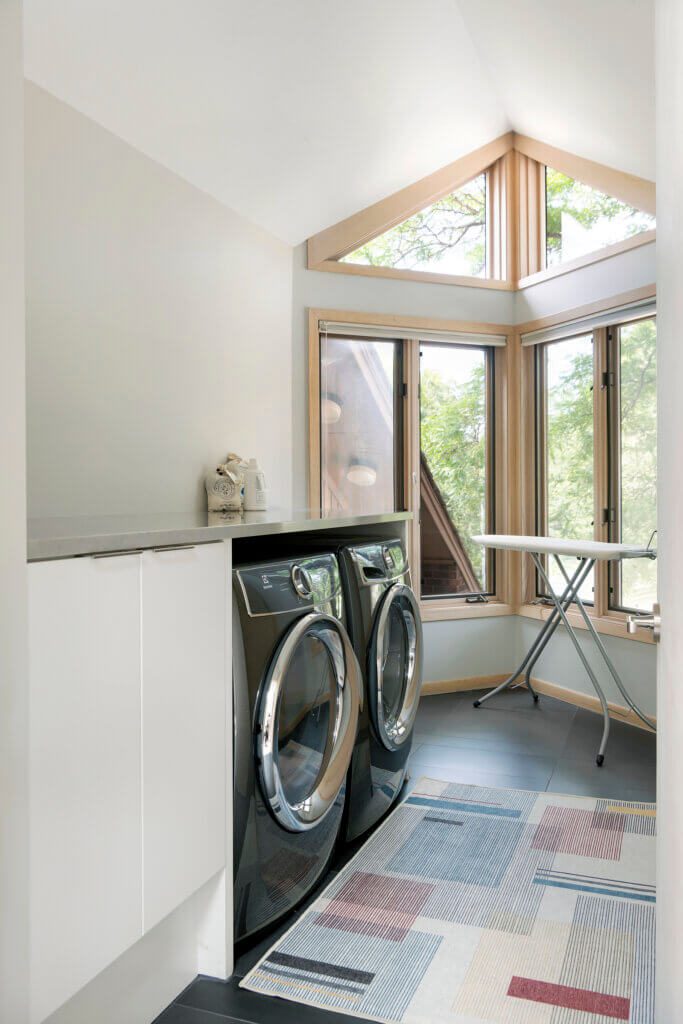 When was the last time you thought about the light in your laundry room? While it might not spring to mind as a priority, it's actually very important.
You want this room to have some brightness. That way, when you're spreading out shirts and treating them with spray, you can see what you're looking at! You don't want stains to sneak by.
Ideally, you have some natural lighting. It's pleasant, and during daylight hours, you can get some great light. If your home structure allows, you could add a wall of windows in the space to make the most of daylight. Other options are adding an egress window with a well or a skylight (if the room is on the top floor).

Whether you have some natural light or not, you will still need adequate lighting for the room. Some lighting options are recessed lights, flush mount, semi sconces or under cabinet lighting

There's one more reason why lighting is so crucial:
It helps with your mood! There's nothing like going into a dim, poorly-lit laundry room. You don't even want to be there.
Recommendation #7: Don't underestimate the power of good lighting.
Plan for Your Future Self
Washers and dryers are significant investments, and your remodel will likely last into the foreseeable future. Thinking in advance about aging in place is always a good plan.

If you prefer a front-loading machine, consider putting risers underneath to eliminate too much unnecessary bending over. Your future self will thank you!
A bonus: Risers can function as additional storage spaces.

Recommendation #8: Be thoughtful about your washer/dryer set-up over the years.
Bring in the Fun!
Doing chores in a pretty place is better than doing them in a dark, unpleasant one. This is the perfect place to let loose and have fun (if that's your type of thing!). Because it's a small space that you're not in too often, you can go bold. A funky wallpaper or bright paint color cultivates a cheerful laundry area that lifts your spirits. You can use interior design magazines or Pinterest to collect your favorite laundry room ideas.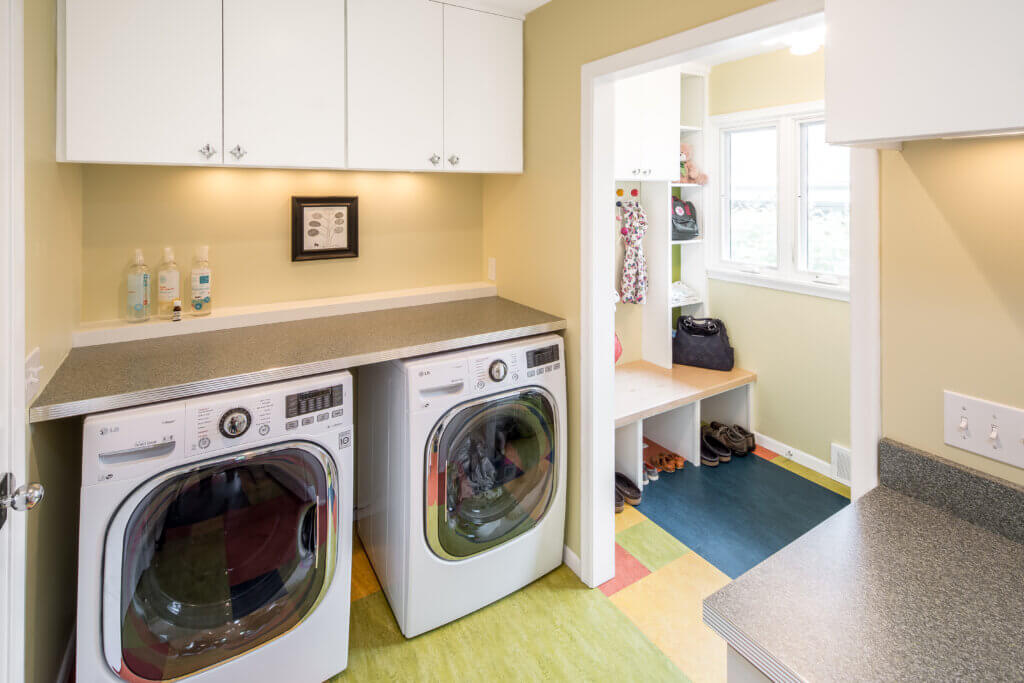 Recommendation #9: Allow yourself to experiment with color, pattern, or texture!
Designs That Account for the Details
There are a few reasons why it's best to leave a laundry room remodel to the professionals.

Because of their experience, trained professionals are able to identify potential problems that need to be addressed, which the average homeowner likely wouldn't recognize.
Design specialists are trained to move through a detailed design process. There are a lot of little pieces to consider; they think through elements that might not seem essential but will become crucial down the line.
What could these issues and considerations be?
First off, if you're looking to move your laundry up to the second floor, will the washer and dryer actually be able to get up the stairs? And will you be able to get them out again when they inevitably reach the end of their life?
If there's a leak, will you be able to get to the main shut-off easily?
How about sound? Do you want to insulate the walls to minimize noise from your laundry?
Bluestem's goal is to make our clients' lives better and easier. The reality is, things break and issues arise. Planning ahead means your future self will have an easier time navigating repairs or replacements, and be happy with all of your decisions.
The Bluestem Difference
When you have a beautiful laundry area, it's a treat. At Bluestem Remodeling, our team prioritizes your individual needs and works through them based on structural and budgetary limitations. Above all, we prioritize functional designs that improve your life.
If you feel inspired by these laundry room ideas, we'd love to hear from you and talk about your own remodeling goals. Learn more about The Bluestem Difference and how we approach home remodeling.