A doorless shower is a beautiful way to add luxury to your home and daily routine. To help you imagine this layout in your own home, our design team discusses ideas and considerations for this shower remodel idea.
First of All, What are the Benefits of a Doorless Shower?
Investment in a doorless, walk-in shower will bring great aesthetic benefits. This design feature gives your bathroom a high-end spa-like feel, perfect for unwinding at the end of the day.
If you combine the doorless design into a curbless shower – meaning there's no threshold sticking up when walking into the shower – you have the perfect design recipe for accessibility. You can enter and exit the shower barrier-free.
Sounds great, right? Let's take a closer look at the various options for your consideration.
Three types of curbs to use with a Doorless Shower
Here are three ways the base of your doorless shower could be built: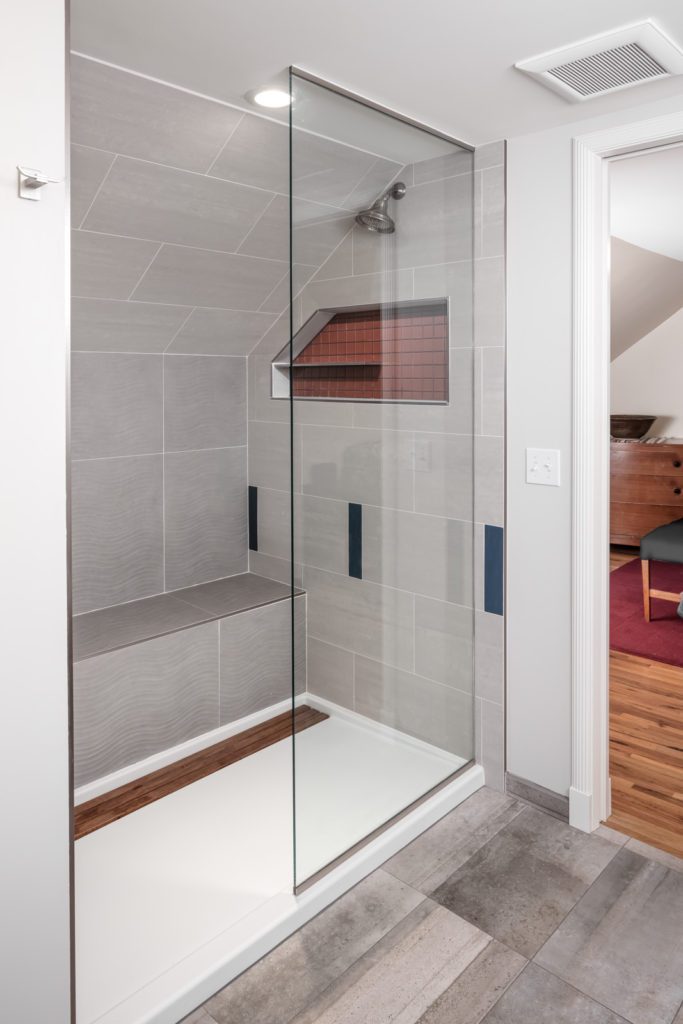 Shower pans – a prefabricated shower base made from fiberglass, cast iron, or other durable materials – are "off the shelf" and usually cost-effective. Without grout lines, they also offer easier cleaning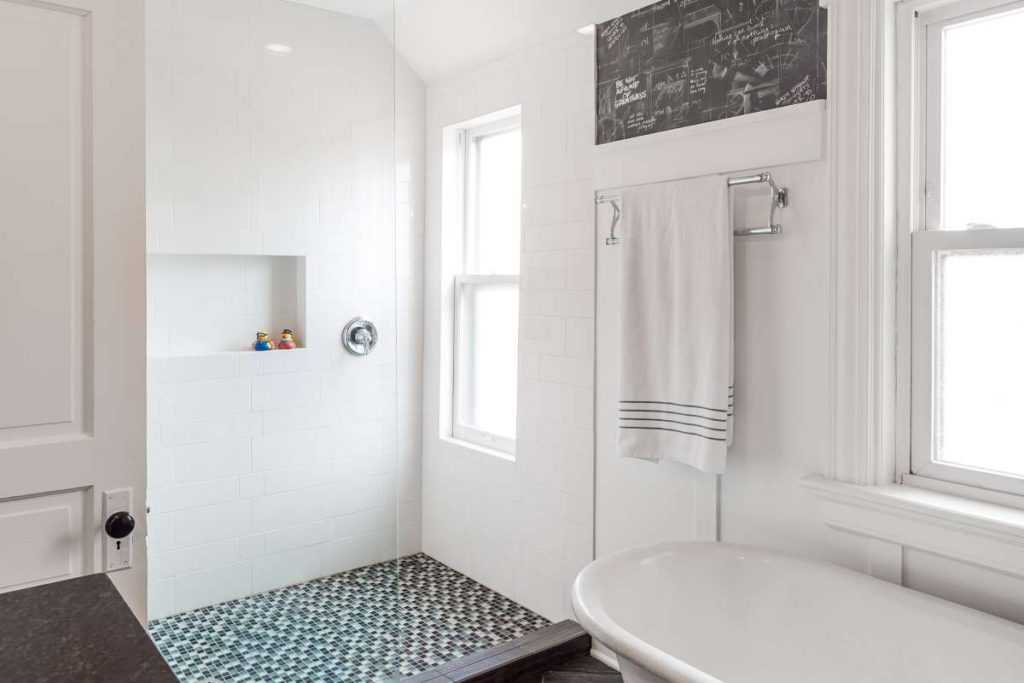 A curb separates the shower area from the rest of the bathroom. Usually tiled, this option can be built to almost any size and typically costs a bit more than a prefabricated shower pan.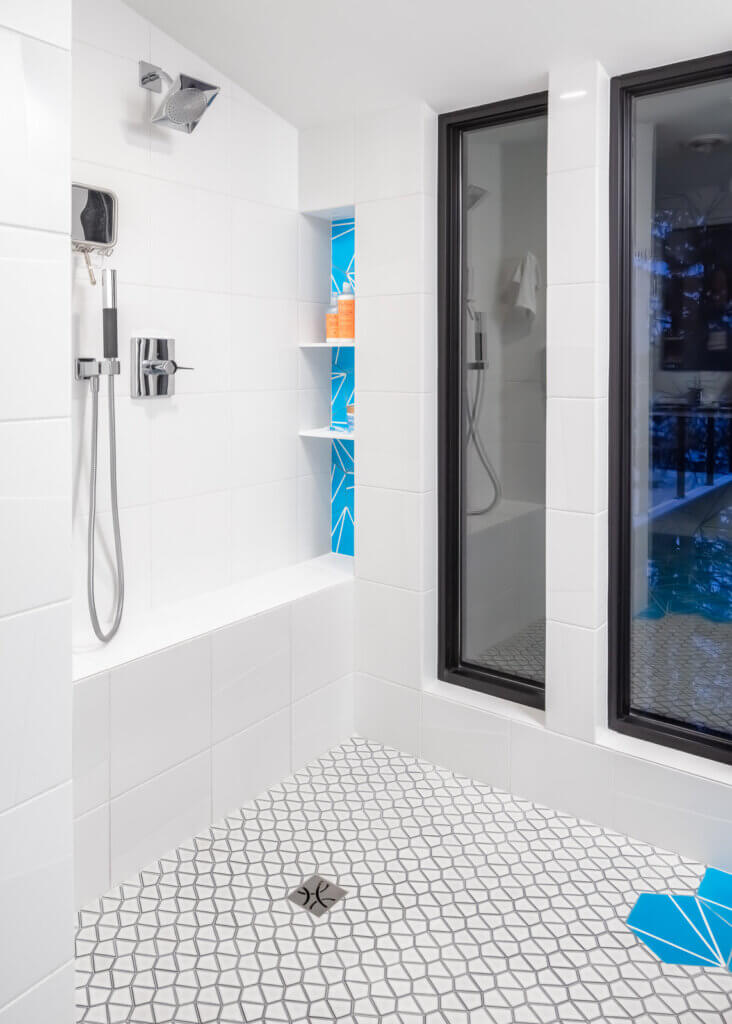 Curbless showers are typically the most costly and most complicated to achieve. They often require special framing and other detailing to be sure that they are watertight and will drain properly.
Pro-tip: Sloping toward the drain works best with small format tiles. It's harder to achieve a seamless slope with large format tiles.
To Read: The Official Bathroom Checklist
Determine Doorless Walk-In Shower Dimensions
In a typical shower, the door or curtain keeps the water in the shower base and going down the drain – as opposed to all over the bathroom floor. When eliminating the door, it is important to get the size and layout correct so you won't have a flood when you shower. The larger the shower space, the easier it is to achieve a well-functioning doorless shower.
Position, direction, and style of the shower head – relative to the opening – is very important. You will need at least 60 inches to contain the water.
Also, think about getting in and out. Although you could make it smaller, for maximum comfort and accessibility, we want an opening at least 30 inches wide. If you have a wider shower, you might use a fixed panel and leave the opening doorless.
Zooming out, we want to look at how this shower fits into your remodeled bathroom. A strategic bathroom layout can offer extra privacy in your shower. A water closet for the toilet allows the shower and toilet to be used simultaneously. Frosted or patterned glass on the glass panel can offer privacy, too.
Where Does the Water Go?
Once you have the size and layout right to reduce or eliminate the splashing, you also need to make sure the water ends up in the drain. With a prefabricated shower plan, this is easy, as it is engineered with a good sloped base to make sure the water ends up where it is supposed to go.
When creating a custom tiled shower base with a tiled curb, it is very important that a similar slope to the drain is accomplished. Again, this is not too difficult for a skilled tile installer.
Both the prefabricated shower pan and the tile base with a curb also have the added benefit of being able to contain a little water, if the drain were to be slow or if you choose one of those really cool body spray shower systems that dump huge amounts of water out – just a little added insurance against a wet bathroom floor.
The curbless shower is the trickiest configuration to control the water. It may require special framing or reframing in order to accomplish the slope needed to send the water to the drain.
Some thoughts about drains:
Although you could have a simple, round, chrome drain cover, you may want something with more style. There are many options. Other finishes – match your fixtures. A square shape may blend into the tile layout beautifully.
Don't want to look at the drain? A delicate linear drain could be placed at the back of the shower and discussed within the tile layout. It is as if the water just disappears.
Pro-tip: A wand or rainhead helps prevent water from exiting the shower. The Bluestem Remodeling team can help determine the best showerhead for your space.
Narrow in on the Right Shower Tile
Once we know your shower configuration and layout within the bathroom, it's time to consider tile. Continue established bathroom tile straight into the shower for a streamlined design. Cut or slightly raised pebbles offer a more naturalistic look. It all depends on what will bring you peace and joy on a daily basis.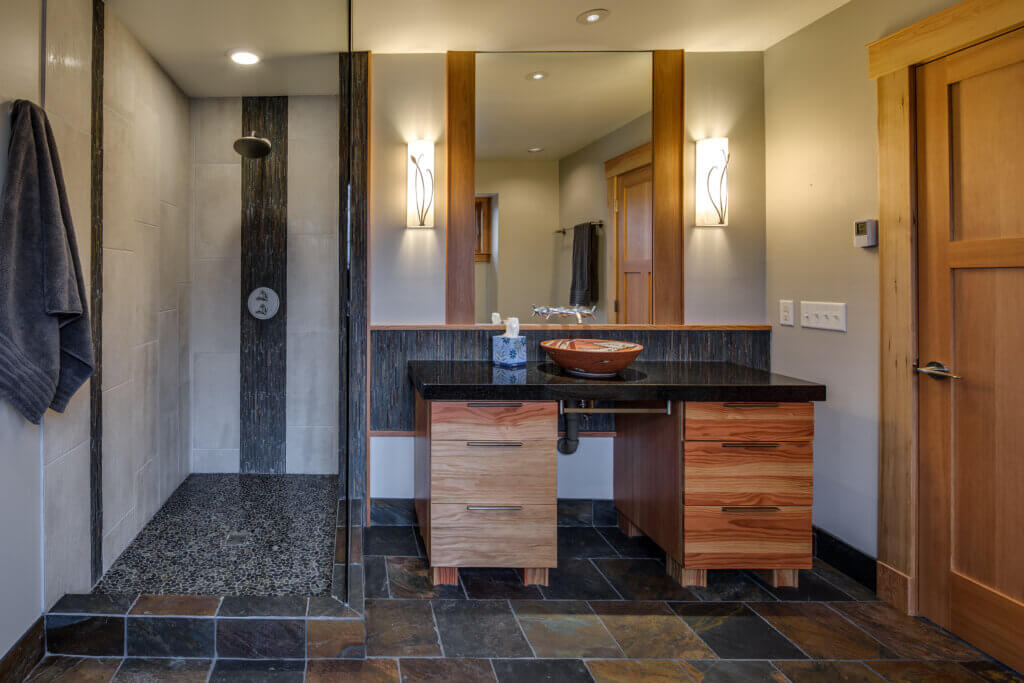 Where Do My Products Live?
This is our most-asked question for a doorless, walk-in shower. A built-in niche is a perfect spot to hold your favorite products while still being beautiful. We can continue to tie in the tile pattern or build in a different look. After investing in such a luxurious shower remodel, you want something tiled in and built to last, not something applied after-market, which could fail.
Some homeowners love to go for a line, linear niche, while others prioritize functionality, such as an 18-inch square.
Pro-tip: Multiple built-ins work well if you don't want to pare down your products.
Another potential accessory we see come up is a built-in, solid shower bench. We can do a seamless design with tile running up the front and top, so you have a comfortable place to sit that fits right into your new look.
A Shower Remodel That's Beautiful and Functional
Are you ready for a transformed space but having difficulty imagining what's possible? Look through our bathroom remodeling photos to see which ones inspire you.
Request a consultation with the Bluestem Remodeling team. We can't wait to learn more about your individual needs and preferences.