Bluestem wins Residential Kitchen $100,001 to $150,000 and
Residential Exterior Under $50,000 categories
St. Louis Park, MN — The National Association of the Remodeling Industry (NARI) named Bluestem Remodeling in St. Louis Park, MN 2021 Region 3 North Central Regional Contractor of the Year (CotY) Winner in the both the Residential Kitchen $100,001 to $150,000 and Residential Exterior Under $50,000 categories of its annual awards competition.
Each year, NARI presents CotY Awards to members who have demonstrated outstanding work through their remodeling projects. The CotY Awards are the highest form of recognition by industry leaders and peers. NARI received nearly 435 entries from across the United States representing over $128 million in remodeling projects.
"This year's submissions were outstanding, making the job of our esteemed judges very difficult," said Tracy Wright, Senior Director of Membership and Chapter Services at NARI. The judging panel, representing industry experts, selected winners based on problem solving, functionality, aesthetics, craftsmanship, innovation and degree of difficulty.
NARI says, "The CotY Awards allow us to celebrate our members who are committed to design, best practices, integrity, high standards and professionalism."
Winning Remodeling Projects:
A Kitchen with a View
Category: Residential Kitchen $100,001 to $150,000
A micro-addition and new layout turns 1980's cramped kitchen into bright, light-filled collaborative kitchen space.
The cramped, isolated kitchen in this 1980's era home did not fit these homeowners' lifestyle nor take advantage of the beautiful views of the nearby pond and woods. They longed for a functional yet fabulous space to support collaborative cooking and family gatherings. A micro-addition facilitated a new layout that both opened to and enlivened their existing living and dining spaces. A bold tri-color palette, along with pro-level appliances and impeccable finish detailing, gave them everything they desired and more.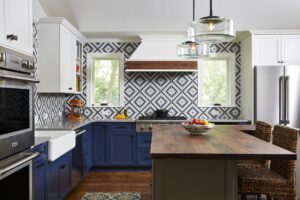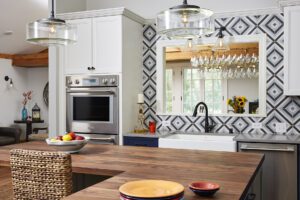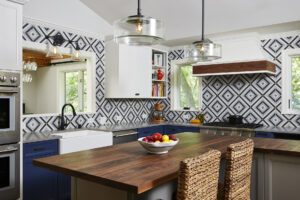 See More Project Photos and Read More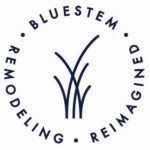 Bug-Free Bliss
Category: Residential Exterior under $50,000
Reimagined backyard turned into family-favorite space for enjoying nature's beauty in comfort.
A busy family dreamed of a space to enjoy fresh air while reading, eating, or entertaining friends. Removing the rotting pergola while retaining the limestone column plinths and bluestone terrace was the starting point of creating this cozy screened-in oasis. Incorporating the existing into the new presented many construction challenges, but creative planning of openings, circulation and the roof structure used these constraints as assets in the final composition. This porch has become a family-favorite for enjoying nature's beauty in bug-free bliss.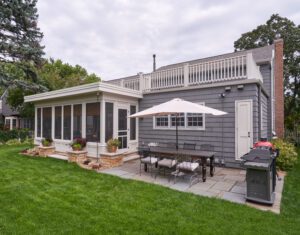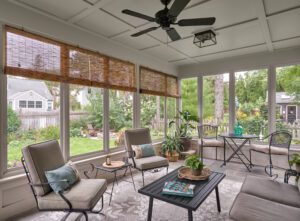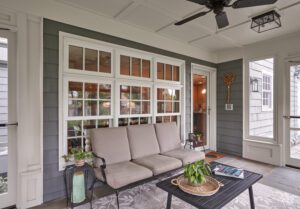 .
See More Project Photos and Read More
About NARI
The National Association of the Remodeling Industry, or NARI, provides residential remodelers with tools that enable them to perform at a higher level. NARI members' annual sales are 2.86 times the industry average because of the knowledge, network and support that they receive. In addition, NARI connects homeowners with its professional members so consumers have positive remodeling experiences with professional, qualified remodelers.
About Bluestem Remodeling
Bluestem Remodeling is known for its full-service and customized design build process, focusing on strong collaboration and close communication with homeowners. The team has been delivering high-quality, high-value projects for over 20 years and is passionate about creating great remodeling experiences for Twin Cities homeowners.
From initial design to final construction, Bluestem's integrated team of specialists, designers and craftspeople guides homeowners through each step of the remodeling journey, leading to finished spaces that reflect each client's individual needs, aesthetics and values. Bluestem strives to create great remodeling experiences while delivering lasting results that homeowners will love.
###