Do you love your neighborhood? Do you feel like you need a bit more elbow room, but aren't finding the right house that fulfills all of your family's needs? If you're needing to make a change to your family's living spaces, but aren't looking to move, a home addition may be the answer.
Home additions add space to a home by expanding beyond the current envelope of the house. Additions come in all sizes, from extensive multi-story spaces to small bump-out additions in just a single room of only a few feet to allow it to function properly. Lets discuss some of the key factors to consider if you're looking to add on to your home.
Learn What You Can – and Can't – Do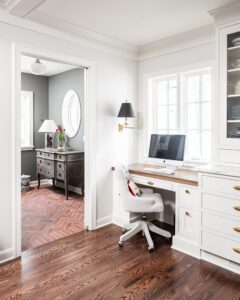 When considering an addition, the realities of the current house and lot are primary factors in determining where – and how – to add on. Zoning setbacks may limit where a house can be extended. For example, on city lots, due to restrictions for the sides and front of the house, additions most often push into backyards or add on to top stories.
Another consideration is that locations of current functions may dictate appropriate places to connect an addition. If you hope to add on to the back of your home, for example, remember that you need to allow for access to that new space through existing rooms, and that the adjacencies of the functions should make sense for your everyday life.
Assess the Current Needs of Your Home
Once you know what you can and can't do from a zoning perspective, the next step is to figure out how to work within those requirements to maximize the impact of your home addition plans.
What are your core needs? Obviously, more room. But for what? To make dinners together easier? To get some work done without interruption? To have a place for everything, and everything in its place? (Oh, to dream!)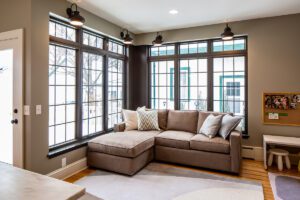 Our approach to home addition projects is to listen closely to our clients and look closely at the existing conditions. In older homes, kitchens are often undersized for modern living. Main levels may not have appropriate entry storage, like a mudroom, or water closet facilities. Formal living rooms and dining rooms may need supplementary informal family gathering spaces.
Looking at the big picture and determining how to make the best use of your existing square footage – in conjunction with an addition – will help in creating a solid plan for expansion. Sometimes it may make sense to start fresh and allow the existing space to take on a different function, like adding a brand new spacious kitchen addition, while turning the former kitchen space into bathroom, mudroom, or dining space.
Incorporate the Outdoors
Inviting nature into your living spaces is vitally important to well-being. All additions should work to incorporate light, ventilation, and view. Often an addition will block, or require relocating, the windows of existing rooms, forever changing the light and view experience of the space. A successful addition will find ways to allow light to still find its way into these interior spaces through well-placed connections or new windows and doors.
Lately, we have had numerous requests for 3- or 4-season porch additions. People are craving this connection to nature, yet also want protection from the elements (and let's be honest, bugs). We have been incorporating specialty window enclosures, cozy fireplaces, and fine interior details into our designs so that these spaces function as beautiful extensions of a home's current living areas. Surrounding yourself with the outdoors feels like a bit of an escape right within your home – and isn't that a great reason for an addition?
Contact the Bluestem Remodeling Team to Start the Home Addition Process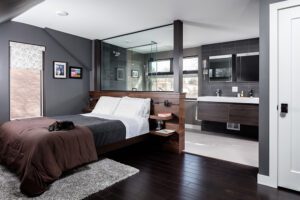 To us, a home addition isn't just tacking a room onto a house. Our process ensures a thorough and thoughtful solution that is unique to each home and its occupants! We use a detailed home evaluation to encourage homeowners to share their hopes and frustrations. Then, we meet onsite for them to show us their home and describe the experiences they desire to create in their new spaces. We document the home and its details, measuring all pertinent and adjacent spaces. Our goal is to solve our client's design problems, while also doing right by the house itself.
Contact us today to find out more about our process and to get started!