The National Association of the Remodeling Industry of MN (NARI-MN)
Names Bluestem Remodeling its 2021 Excellence in Service Contractor Award Winner
St. Louis Park, MN, February 10, 2021 —The National Association of the Remodeling Industry (NARI of MN) named Bluestem one of its two 2021 Excellence in Service Award winners at its annual February Monthly Meeting on Tuesday, February 9th.
Each year, NARI of MN presents the Excellence in Service Award to one Contractor and one Associate member who have shown superior customer service throughout the year.
NARI of MN partners with Guild Quality, a third-party provider of customer satisfaction surveying and performance reporting, to conduct the award. Guild Quality reaches out to NARI of MN members past clients and provides them a thoughtfully crafted customer satisfaction survey. From there, the results of the surveys are calculated, and the Contractor and Associate members with the highest overall customer satisfaction ratings win the awards.
NARI of MN is proud to recognize two outstanding companies for their superior customer service.
Read Bluestem's Customer Reviews on GuildQuality.com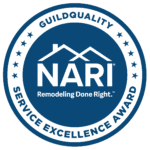 About Bluestem
Bluestem Remodeling is known for its full-service and customized design build process, focusing on strong collaboration and close communication with homeowners. The team has been delivering high-quality, high-value projects for over 20 years and is passionate about creating great remodeling experiences for Twin Cities homeowners.
From initial design to final construction, Bluestem's integrated team of specialists, designers and craftspeople guides homeowners through each step of the remodeling journey, leading to finished spaces that reflect each client's individual needs, aesthetics and values. Bluestem strives to create great remodeling experiences while delivering lasting results that homeowners will love.
About NARI
Consumers may wish to search www.narimn.org to find a qualified professional who is a member of NARI-MN or call NARI National at (847) 298-9200 and request a free copy of NARI's brochure, "How to Select a Remodeling Professional." NARI-MN is the second largest and one of the most progressive of the over 45 chapters in the United States. We offer our members the advantage of affiliation with a proven remodeling authority, and we provide homeowners the convenience of knowing where to begin their search for an appropriate remodeling partner.
About GuildQuality
GuildQuality equips builders, remodelers, real estate developers, and home services contractors with the opportunity to see their strengths and weaknesses throughout every avenue of their work. As a third-party, we provide a level of comfort for your clients, empowering them to share an honest assessment about their project. Having an independent third party conduct customer surveys and gather feedback puts homeowners at ease by allowing them to be more candid. Our process includes multiple attempts to reach the homeowner through different channels including email, telephone and direct mail.