If the past year has taught us anything, it's that our home's functionality, aesthetic, and comfort matter. Making sure your home supports your physical, mental, emotional, and relational health is vital to your overall well-being. From air quality, to light and color, to organization and flow, home wellness makes a big difference in our day to day lives.
Air Quality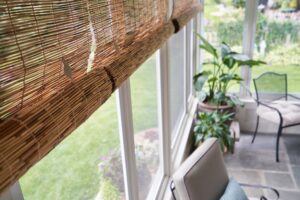 The quality of the air we breathe in our home makes a big impact on how our bodies function. In fact, clear indoor air is one of the biggest roadblocks in achieving home wellness. Proper ventilation allows fresh, invigorating air to move through the house. Fresh air also helps combat mold, which can wreak havoc on your air quality.
But it's not just about proper ventilation. You can negate off-gassing (the slow emitting of dangerous gasses often from household products and building materials) by being careful about the products you invest in. You'll be amazed at the difference good quality air can make on your overall well-being.
Light & Color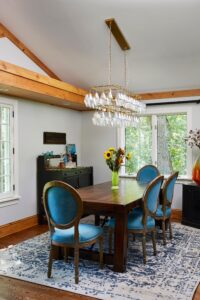 At Bluestem Remodeling, we believe that if a home reflects you, it nurtures you. When you're surrounded by the colors, textures, and the quality of light that make you happy and comfortable, it adds a daily dose of joy. An aesthetically balanced, cohesive space offers a sense of peace and security that's nurturing at the end of a long day.
"Clients often feel like they need permission to do what their heart is telling them," says Bluestem owner Timothy Ferraro. "If you love lots of colors, great! If you love grays, go for it. You don't need to justify why you like what you do."
Organization & Flow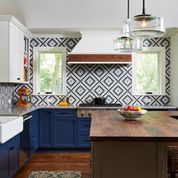 As you take stock of your surroundings, it's important to ask yourself: is my house fighting me all the time? Can I find my keys easily? Is there a place to sit down to put on my shoes? Many people don't realize how much an organized home contributes to your well-being.
Imagine it's a weeknight: kids are running around while you try to cook dinner. You're short on counter space, the pantry is beyond cluttered and where are those ingredients you need? The open refrigerator is causing a traffic jam of family members trying to get through. Your kitchen's lack of functionality is getting in your way, and it's most likely causing you stress.
It may take 20 minutes to make a healthy meal in an organized kitchen, but 40 minutes in a disorganized kitchen. And the harder it is to cook, the more appetizing take-out seems. Over time, this seemingly small example can take a huge toll on your goal to be healthy at home.
How Bluestem Remodeling Can Help
Home wellness is a combination of hard science, experiential senses, and physical health. At Bluestem Remodeling, our experienced design professionals will incorporate wellness into your remodeling project, leaving you with a better home life.

With an open line of communication, professional insights, and a managed selections process, our integrated design build team learns about your needs and your dreams. We develop and install designs that encompass who you are and elevate your home life.
Inspired to add some home wellness into your life? We'd love to help you! Reach out to schedule a consultation, and take your living space to the next level with The Bluestem Difference.