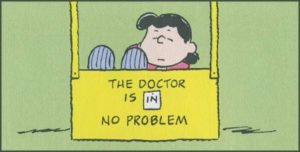 As Minnesotans, we would be remiss if we didn't recognize this famous cartoon sketch from our beloved local hero, Charles M. Schulz. I'm sure it can relate to many fields, and one of them is definitely remodeling.
Remodeling has the potential of being a stressful venture; not only are you jumping into a brand new "longer-term" relationship with a group of individuals you most likely just met, you are also about to make more decisions than you ever thought possible on a single project that could make your brain spin in countless directions.
What's this about a longer term relationship, you say?
Depending on the size of your project you could be spending anywhere from three months to over a year with the people you hire to do your remodeling project. You should REALLY like them. And better yet – REALLY TRUST that they are the right team that won't pull the football out from underneath you. When working with homeowners this is always my first task. Make sure they feel heard, understood and that they know I care about what matters to them. I strive to be their warrior. I want to earn their trust.
Think about how much we are inundated these days with visuals of beautiful projects – from Pinterest and Houzz to countless shows on HGTV and DIY… how do you know what will make you happy? After all – you're about to make a big investment and you need to know it will be a long lasting joy – not one that is fleeting like the newest restaurant hot spot around town. The definition of my job here is simple. Help you find your way – diagnose the wants and needs of the project desired by you, the Client, and bring it into the finish line with everyone smiling at the end.
Is there a difference of opinion within the household? No problem.
Can you stay true to yourself without going trendy? No problem.
Worried you'll be overwhelmed by all of the decisions? I won't let that happen.
Don't believe the myth that this has to be hard and that unforeseen costs will be the central focus of your project.
With the right team of Specialists working for you, the results will speak for themselves. You will find the perfect personalized solution for you backed by experts of every component of your project.
I may not be a doctor, but I have learned to empathetically listen to execute the vision that Clients entrust me with. And although many times my job may feel more like I am working as a Professional Listener, perhaps that is what makes me a good Designer. There is nothing more gratifying to me than to know we've not only built a beautiful project that exceeds expectations, but we have built trust AND had fun along the way.
"Don't worry about the world coming to an end today. It is already tomorrow in Australia." – Charles M. Schulz