Looking to extend your home's living space beyond its four walls? An outdoor porch might be the perfect addition. It provides an ideal gathering hub for entertaining friends or simply relaxing with a good book and a glass of wine. A well-designed porch can also add curb appeal, making your house more attractive to potential buyers. But is a porch installation right for you?
If you're leaning toward yes, think about how a new porch design could add function and style to your outdoor living space, and what your primary needs are. Further, should your porch installation be DIY or left to the professionals? To help you come to the best solution, we recommend you first focus on your "why."
Ask yourself: What type of function do I want to get out of my porch installation?
Are you looking for an open-air space or do you need bug protection (i.e., screens)?

Do you want to use your porch 365 days a year or only seasonally?

Are you interested in creating a space for entertaining, dining, or working from home?

If so, does the space require the installation of appliances or fixtures that would require electrical and/or plumbing?
Once you decide on your "why," start thinking about the types of porch designs that best suit your needs to achieve this.
Types of Porch
As a homeowner, there are several porch options to consider—each with its own pros, cons, and opportunities, such as: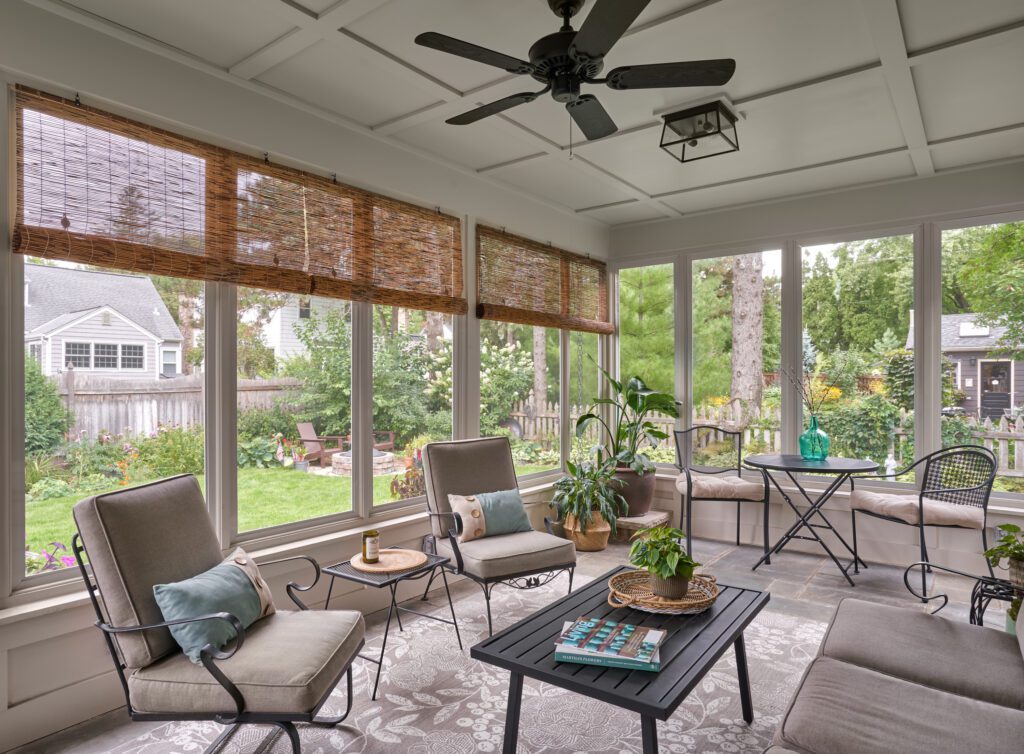 Open-covered porch:

Provides a comfortable, shaded outdoor area for relaxation, entertainment, and recreation. This type of porch is covered by a roof, protecting the area from rain and direct sun, but it is open on the sides, allowing fresh air and natural light to enter.

Screened-in porch:

Protects you from bugs and other outdoor elements so you can still enjoy the fresh air.

3-season porch:

Though typically "screened in", many 3-season porches offer the ability to include single-pane glass or vinyl windows to cover the 3-facing outdoor walls.

4-season porch: A versatile space you can enjoy year-round. It typically has windows on 3 sides and is fully enclosed, allowing you to enjoy the surrounding views while staying protected from the elements.
3 Season Porch vs. 4-Season Porch
Although the name might give it away, a 3-season porch is typically not insulated and does not have heating or cooling systems installed, making it suitable for use during the spring, summer, and fall months. In contrast, a 4-season porch is fully insulated and equipped with heating and cooling systems, allowing you to enjoy it year-round regardless of the Minnesota weather conditions.
Factors to Consider Before Porch Installation
Now that you know the different porch options, let's discuss your roof. After all, a porch is essentially an outdoor patio or deck with a roofing system; therefore, if you're considering the prospect of a new porch, you'll need to discuss how its roof will meet with the rest of the house.
The roof's slope, drainage, durability, and placement will all factor into the design of your porch installation. For example, if you have windows located on the second story of your home, this, too, will affect the creation of the porch. Therefore, the roof is the most critical factor to consider. However, let's review a few other essential components that come into play.
Space and Size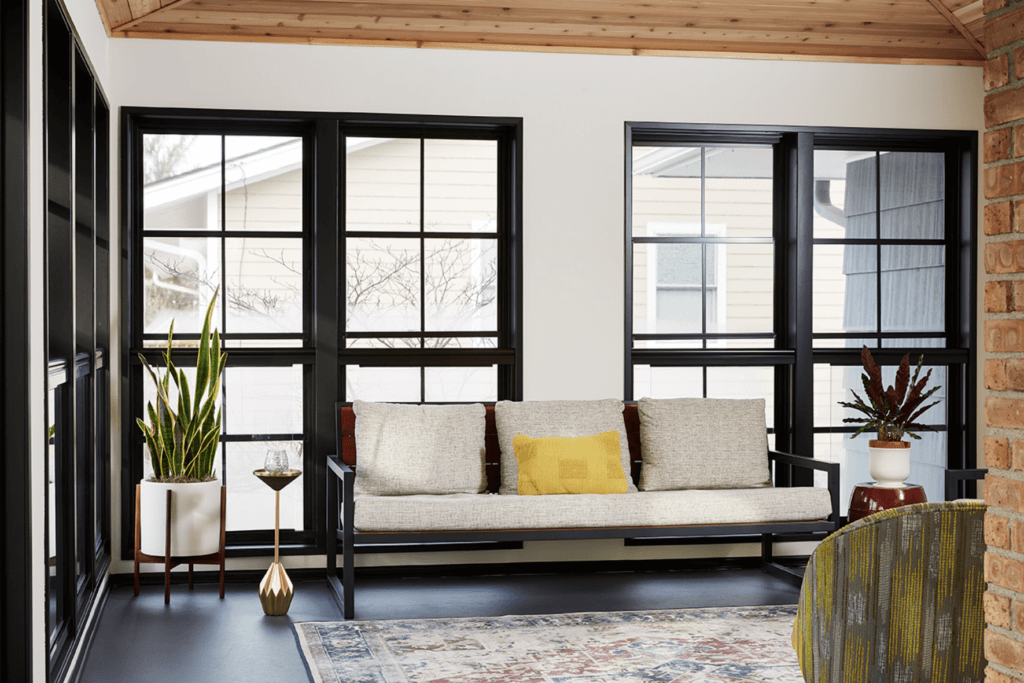 Do you have enough space to build a porch? More importantly, will local zoning laws allow you to build one to your preferred specifications?
Before any design can begin, you must familiarize yourself with local zoning laws. These laws regulate the use and development of the land, including structures like porches. And there are also building codes that control how you have to build. For example, zoning laws may dictate the setback requirements for a porch, which is the minimum distance it must be from the property line or neighboring structures. They may also regulate the height, size, and even the materials used to construct it.
If you have any questions about local zoning laws, our team of trusted Minneapolis builders can help!
Wall System and Railings
Will your porch be screened in, insulated, or open? The details of these choices may be affected by both zoning and building code.
Do you require railings? Even screened porches need a railing system if the porch is at least 30 inches from the ground, which brings us to the next essential factor:
Required Permits
In addition to ensuring that your porch is legally compliant and safe, obtaining all necessary permits is crucial before beginning the porch design and installation process.
Remember, a permit is required anytime you affect the home's structure. But that's not limited to the roof or foundation. So even if you're considering adding appliances or fixtures requiring electricity or water, you'll need the proper permits in place.
The good news is that a reputable remodeling company like Bluestem can help!
DIY Porch Installation vs. Hiring a Professional
When it comes to porch installation, there are two main options: hiring a professional or doing it yourself (DIY).
If you have experience with home projects and feel confident in your abilities, you can tackle the installation yourself. However, even the most skilled DIYers should know when to call a professional to ensure a porch is installed safely and effectively.
Again, if your porch requires any structural changes or modifications to your home's existing structure, it's best to hire a professional. This includes:
Adding support beams

Extending the roofline

Altering the foundation
A professional design and build team will have the experience to make these changes while ensuring they meet local building codes and regulations.
They can also ensure that your porch is anchored correctly and secured to your home's foundation, reducing the risk of collapse or damage. Ultimately, the decision to install your porch DIY or hire a professional will depend on the following:
Your level of experience

The complexity of the project

Your comfort with the tools and materials involved
To put it simply, if you're unsure, have questions, or don't know how to put on a roof, call in a professional to help!

4-Season Porch: A Case Study
Learn how we transformed this simple porch into a cozy year-round porch—complete with heated floors, full windows, and custom design to complement a Minneapolis home's Cape Cod aesthetics.
Is a Porch In Your Home's Future?
Ready to enhance your outdoor living space with a beautiful porch? Look no further than our leading home remodeling company! Our team of experts specializes in remodeling, home additions, and, yes, even porch installations. So whether you're looking to renovate a drab, outdated porch design or install a new addition from scratch, we're ready to help!
But first, let's get to know more about your dream design. Contact us for a consultation today and experience The Bluestem Difference.