Achieving your fitness goals doesn't have to involve leaving the comfort of your home. With a well-equipped home gym, you can break a sweat and challenge yourself at your own pace.
An overlooked and often underutilized space for family entertainment and personal hobbies, the basement offers a unique place to carve out your dream workout routine—pending a few essential considerations.
Luxury Home Gym Design Considerations
Remodeling an unfinished basement or looking to add a fitness area to an already finished one? No problem!
In this article, we'll cover topics that range from making practical considerations on lighting and ventilation to choosing upgrades that can transform your basement into the ultimate wellness retreat—with some help from the Bluestem team!

Consider the space
If a home gym in on your remodeling wishlist, you'll likely fall into one of three categories:
You're planning a basement remodel on an unfinished basement and want to add a dedicated gym area.

You want to add a gym in an existing finished basement area.

You're planning a basement remodel and want a multipurpose space to include a gym AND other living areas, such as a

home office, sound room for music or podcasting, or a kid's play area, etc.
Taking all this into consideration can help you formulate a plan and start thinking about all the necessary details and requirements.
At Bluestem, we believe that good planning is the best way to ensure your project is done right! When you know the type of space you're working and what your dream design entails, our 4-Phase Design & Planning Process can get underway.
The best part? Our process provides the added assurance that you will get what you want, stay on budget, and avoid unexpected costs along the way!
Assess your goals for the home gym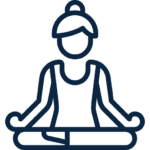 We could list off the benefits of a home gym, but why do "you" want one? To answer this question, think about what fitness means to you.
Do you need a private place to engage in some intense cardio or cross fit? Or do you prefer a peaceful atmosphere for relaxation and meditation?
Maybe you want to practice your cross punches with some boxing techniques or enjoy some Zumba and yoga sessions with friends. Everyone has unique fitness and wellness preferences, so it's essential to carefully consider what you desire for your home gym and what activities you intend to pursue while there.
Don't forget about flooring
Even if your basement is already finished and you want to add a fitness area, ensuring you have the right flooring is crucial for comfort and safety. Since concrete is typically used for basement floors, adding cushioning and shock absorption can be a game-changer.
Here are a few flooring options to consider:
Rubber Flooring:

Rubber flooring is durable, easy to clean, and provides excellent shock absorption. It's ideal for weightlifting areas or spaces where heavy equipment will be used.

Foam Tiles:

Foam tiles are affordable, easy to install, and provide cushioning for floor exercises. They're also water-resistant, making you stress less about those sweaty workouts.

Vinyl Flooring:

Vinyl flooring is another option for basement gyms as it's water-resistant, easy to clean, and offers good traction. It comes in various styles and can mimic the look of hardwood or stone.
Lighting is a must!
If you're planning a basement remodel, lighting will be part of the planning process. After all, the last thing you want to do is workout in a dark, dingy basement, so if natural light is scarce, installing energy-efficient LED lights can provide uniform illumination throughout the area.
Harsh and direct lighting can cause unpleasant glare and shadows. So, instead, go for diffused lighting or adjustable fixtures that enable you to change the brightness and direction of the light to your liking.
Ventilation and air quality is everything
Proper ventilation is crucial for any basement gym area, as it helps to maintain a healthy and safe environment. Without it, the air can become stagnant and filled with harmful pollutants, leading to respiratory problems and other health issues.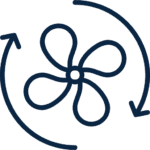 Additionally, proper ventilation helps control moisture and prevent the growth of mold and mildew, which can also pose serious health risks. Ensuring your basement gym area is properly ventilated allows you to enjoy a comfortable, safe workout space that promotes good health and well-being.
Of course, this is a critical aspect of basement remodeling whether you're using the space for a dedicated gym, office, kid's play area—or all of the above!
If your basement lacks natural ventilation, consider installing a dehumidifier and investing in a high-quality air cleaner to keep the air fresh and dry during intense workouts. We recommend the Air & SurfacePro+ by Vollara®, a portable surface and air purifier that uses ActivePure® Technology to help eliminate contaminants on surfaces and in the air. It also helps reduce odors caused by these contaminants.
Here's an important tip: Before you even consider remodeling your basement, you'll need to do a radon test. You can easily perform one using a home testing kit. The good news is that radon isn't difficult to remove, and you can work with your remodeling team on radon-resistant techniques during the planning phase of the project!
Create a space you want to be in!
To make your home gym a place you look forward to being in, create a motivating and inspiring atmosphere.
At Bluestem, we'll help you consider the following elements that can make the space truly yours:
Color Scheme:

You'll want colors that energize and inspire you. Bold and vibrant colors like red or orange can increase motivation while calming colors like blue or green can promote relaxation.

Music and Entertainment:

Depending on how you like to workout or utilize the space, you may want to install an audio system or smart TV to play in the background or front and center of your routine. Of course, to avoid interruptions, you'll need to have a strong WIFI connection in your basement area or add an additional router if needed.

Mirrors:

Large mirrors serve a functional purpose and make the space appear larger and brighter. They can also boost confidence by allowing you to monitor your form. However, if you don't want to look at yourself all the time, you can also consider accent mirrors that have a smoke effect.

Personal Touches:

From plants and artwork to motivational quotes and photographs, we'll help you create a space that inspires you to move!
By customizing your gym's atmosphere, you'll create an environment that fuels your determination and helps you stay on track.
Is a Home Gym Installation in Your Future?
Aside from the considerations above, it is equally crucial to evaluate if your basement is the ideal location for a home gym or if another spot would be more suitable in terms of lighting, ventilation, and space.
A basement gym can be a great addition to any home, providing a convenient and comfortable space for exercise and fitness. With the help of Bluestem's professional remodeling team, you can create a space that meets your needs and fits your lifestyle.
From planning and design to construction and finishing touches, Trust our team to guide you through every step of the process and create a space you can't help but love spending time in.

Home Gym Design: From Dingy and Drab to Bright and Fab!
Before you go, check out this before-and-after basement renovation, where we converted a family's basement into a spacious, inviting multipurpose area. The refurbished basement now serves as a comfortable spot for family gatherings, after-school hangouts, and the perfect venue for hosting social events.
Additionally, this new basement provides ample space for storage and organization—not to mention a bright, sunny area for morning yoga and workouts.
Check out Bluestem's Home Gym Considerations, featured recently on porch.com! To read the full article, visit https://porch.com/advice/home-gym