By Timothy Ferraro | Owner, Bluestem Construction
I will get to this question in a moment.
First, I hope you are all well and safe as we demonstrate our solidarity as a community by staying at home as much as possible. I cannot express how deeply we feel for those who have lost jobs, resources or even loved ones. It would be glib to pretend that we are not all affected by this situation.
If you do find yourself in a situation where employment, health, or the condition of loved ones is unsure, clearly attending to those things will be your priority right now. I have twenty-something aged-children who have either lost jobs or worry daily because their jobs require extensive public contact, as well as elderly parents who are secluded from friends and family. These are the realities of right now. (If you are in need of assistance, or can volunteer aid, here is a link to resources and opportunities: https://www.211unitedway.org/2020/03/31/coronavirus-information-2020/)
The world has also seen great bravery, creativity and fortitude in response to the isolation and the unknown. It is bred into the human spirit to make things better, to make art and to craft beauty in the face of difficulties. This is perhaps the sole gift of this great pause in our typical lives. And, as history shows, life will eventually return to the next normal, where we will enjoy gathering together and celebrating what is to come.
For the remodeling industry, it is definitely not business as usual right now.

However, we at Bluestem are able to keep building, designing and dreaming with our homeowners. We have had to change quickly to accommodate the needs of families, and to keep them, our staff and our trade partners safe. It is important that we all follow the guidelines science is laying out for us for preventing the spread of this disease. Bluestem is blessed to have a smart and responsive crew that has led the way in new practices as we continue the projects our homeowners have started.
For some people, yes, this is proving to be a good time to start thinking about changes to their homes – projects large and small, urgent, or many months away. If your situation is stable, and resources allow, this might be just the time to think more about your next home improvement project or about creating the home of your dreams. At Bluestem, our design team can work with homeowners remotely, and we have lending resources who can help you find extraordinary financing options. In starting to plan a remodeling project for your home right now, you could be part of keeping someone else employed and helping his or her family stay stable. You could create beauty, exercise your creativity and generate hope in the knowledge that this situation will pass and things will get better.
Things WILL get better as long as we all stand together (even if it's 6 feet apart), and remember to keep having hope.
Here are answers to some of the questions you might have:
Can We Even Work on Our Home Now?
The short answer is: Yes (in Minnesota)
Residential construction and the specialty trades that support building are considered critical infrastructure, as are many of the suppliers and the supply chains. This makes sense, as keeping building trades operational could be a matter of public health. There are plenty of projects that were underway when the crisis hit, and finishing them is a matter health and safety for many people. It is important that our homes remain working and in good repair – especially if we are going to be spending so much time in them.
What About Planning?
If you're not ready to have workers in your home, but want to be able to do your project once this crisis eases, you could definitely start the planning.
There are two primary phases of the planning process that can certainly be accomplished if you're stuck at home: the Research & Dreaming phase and the Project-Specific Planning phase with a professional builder.
1. Research and Dreaming.
This could be a great distraction from any boredom or stress and an alternative to binge-watching tv shows. Here are some of the things you can do:
Start with a simple list of what's making you crazy about your home, or what you are dissatisfied with.
Next, list the specific things that you would like to see changed.
Set up a folder on your computer to keep all of your research in, or dedicate a notebook or folder to keeping things together.
Take advantage of the many online resources for design ideas! Houzz.com, Pinterest and Instagram are great places to look for and find inspiration. Look for online versions of home magazines such as Fine Home Building and Better Homes and Gardens. The goal is to see what is out there that you like and what resonates with you.
Educate yourself with articles and blogs. How does the remodeling process work? How could you approach the design? What are ideas for solving the problems you have?
This research phase should be fun! Just relax and enjoy the dreaming. As long as you tag, bookmark or copy things that really speak to you, you will be able to use them later when you do have to "get organized".
2. Project-Specific Planning.
If you are more serious about getting your remodel, addition or update planned, then you will want to do some formal project-specific planning.
And Yes, this planning can be done even within the confines of social distancing — as long as you work with a design team that is set up and skilled with a remote, online process.
To be honest, many remodelers have not kept up to pace with developing technology. Remodelers who still do things "old school" might be great crafts-people, but they may not be able to help you plan your remodel within the present restrictions or in a way that will keep you safe.
Look for These Kinds of Capabilities in a Remodeling Professional: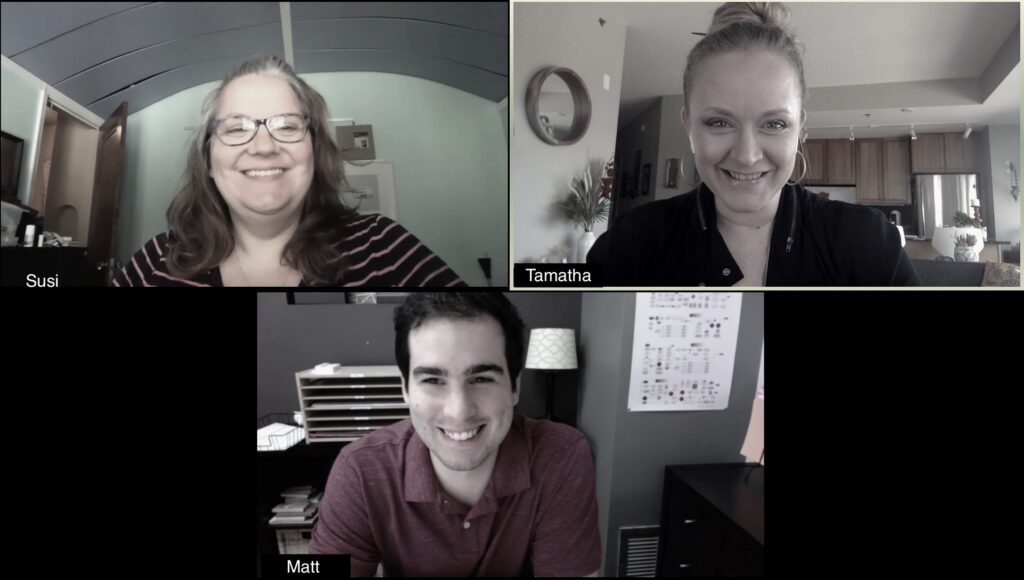 Modern Tech-Savvy
Is modern technology integrated throughout the remodeler's working process?
Ability To Do Online Meetings
Is the team ready and able to meet with you via video? Can they help you with the details of the technology if you need it?
Organized Process
Although this is not specifically related to a virtually-assisted planning process, if the remodeler already has a detailed, organized process in place to guide you through planning, it will translate much better to an online platform.
Online Portal for Communication & Project Management
An organized, centralized virtual space, where all the details of your project can live, means that physical paperwork can be reduced or eliminated. It means that you will have control of your project even if you cannot meet with your remodeler. And, it is far better than a bunch of disconnected emails you will have to follow and keep track of. Read about Bluestem's Online Client Portal.
Computer Design Process
If the drawings are generated electronically, they can be shared with you via a virtual meeting platform, emailed or posted to a portal. Some companies even have the capability to give you access to remote, virtual fly-through of your remodeled space.
Remote Walk-Throughs
Can the remodeler use technology to visit your home and show you progress and get approvals? In-person site meetings need to be reduced – at least for a while, but you still need to be able to see progress and give approvals.
Communication Plan
Good communication is the key to any successful remodeling project. Does the remodeler have a communication plan in place? How will it translate into the realities of social distancing?
Our team had all of the above in place before this crisis started. That made it relatively easy for us to make the transition to working with social distancing. We have found that our comfort with technology and already-existing online work environment capabilities mean that we can help homeowners still be at ease and confident planning a remodel, even now when direct meetings are restricted.
Is It Safe to Have Work Done in My Home?
That depends on how it is done.
How big is the project and what needs to be done? If it's a simple repair or update that will just take a day or two, the best way to be safe is to clear out of the area while the work is underway. Make sure the workers clean and sanitize themselves, and then clean the work area again – especially surfaces that would have been touched – before leaving.
Read the CDC's Cleaning and Disinfection for Households Official Guidelines:
https://www.cdc.gov/coronavirus/2019-ncov/prevent-getting-sick/cleaning-disinfection.html
If you are thinking about – or in the middle of – a longer, more disruptive project, especially one that will touch many areas of the house, it's best to move out of the home in order to protect your own health and the health of the workers. If you cannot move out of the home, it is very important to isolate the work area. Ideally, you would not be entering the isolated area except for periodic inspections.
Is the contractor using appropriate safety, sanitation & social distancing measures?
Check to see. (And ask for specific details!)
Bluestem has established the following procedures to keep workers and homeowners safe on the job site:
Limited Access
We allow only one worker or one team of workers to be on a job site area at a time.
Isolated Teams
Within our working team, we have isolated sub-teams. These pairs or trios work together but don't cross with the other teams. Also, our in-house teams don't cross with teams of other companies. Design staff is working from home and they meet with our construction teams via phone or via video. The goal is to keep the possibility of transmission significantly reduced or eliminated.
Sanitation
We provide sanitation supplies to each active job site and instructions to "clean in and clean out". We pay special attention to cleaning between work sessions.
Isolated Work Areas
Even if the homeowners are not in the home, we set up plastic barriers to keep dust out of non-work areas. These barriers also keep potential contagions separated from the areas of the home where work is not happening.
Personal Protection
We provide hand sanitation products and other items that health officials tell us are effective to make sure our workers are able to limit their own exposure.
Sick Workers Stay Home
We have a strict policy and support it with sick time: If you are sick, stay at home until you know you are not putting others at risk.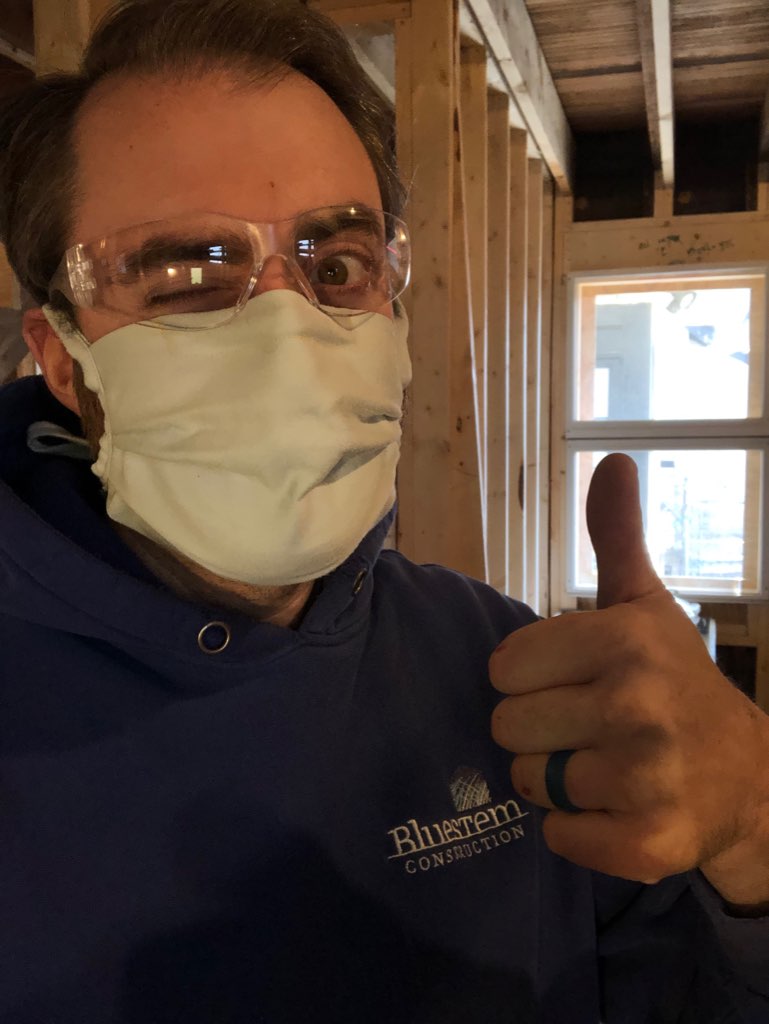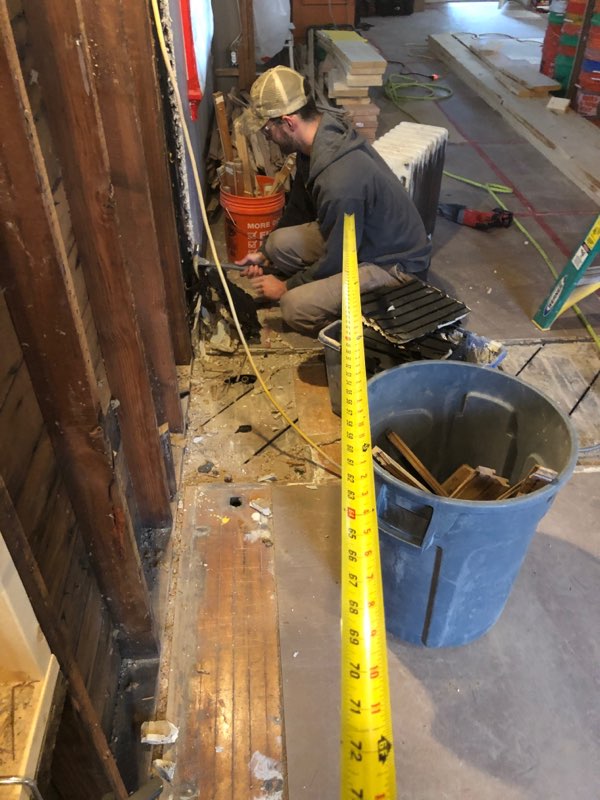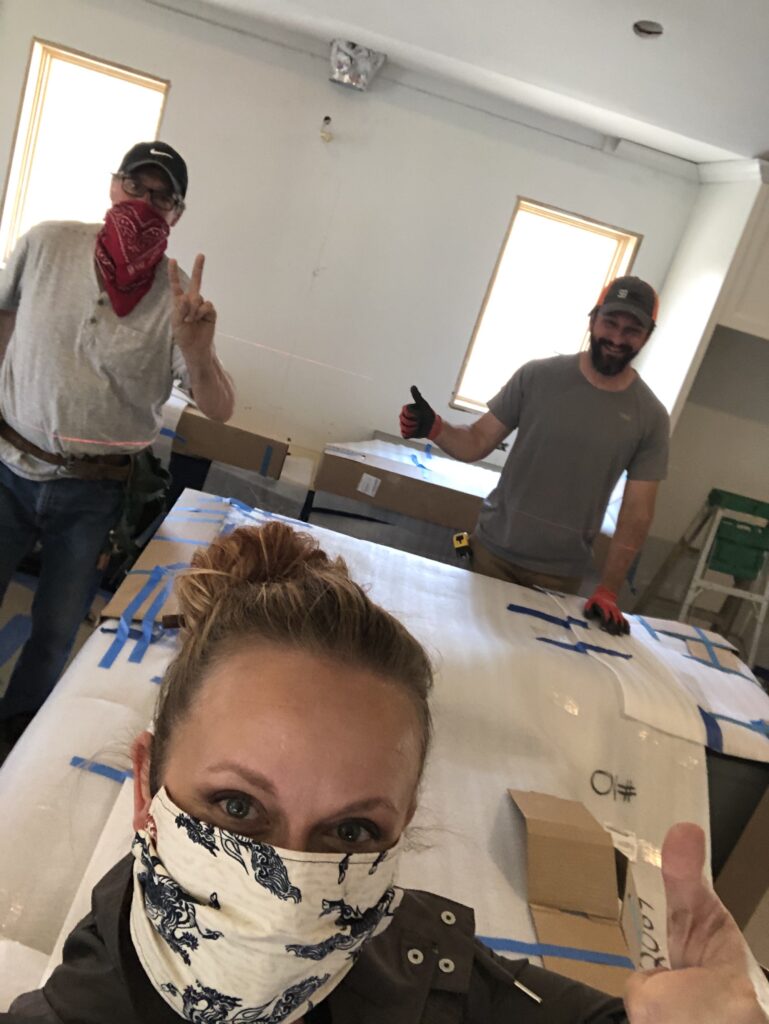 While no measures can absolutely guarantee that transmission will be eliminated, they will greatly reduce the chances. By implementing the procedures above, we are working to keep infections contained and prevent excess strain on our health care system. Before you have someone working in your home, verify the measures they are taking.
If you want to learn more about how to plan your remodel, or you want free tips and tools to help you in your research, planning and dreaming, you can find more resources HERE.