A cohesive, functional, and beautiful mudroom is an understated opportunity to add ease into your daily life. This transitional space, the home of kicked-off shoes and tossed aside keys, can serve as a launching pad as you prepare to venture out into the world, as well as a reprieve when you return.
At Bluestem Remodeling, we love creating personalized spaces, and we're all about incorporating a mudroom that fits your individual needs—both aesthetically and functionally.
A Space For Comfort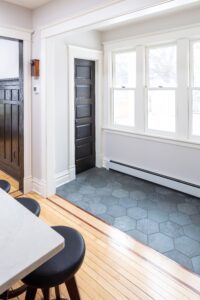 One of the easiest ways to add functional comfort to a mudroom is by incorporating a mudroom bench. Having a place to sit and take off cold winter boots or set down those heavy grocery bags makes the transition in and out of the home easier. Plus, by leaving the space under the bench open, you've created extra storage space for your shoes, keeping them out of your entryway.
A tabletop or small counter top serves as a perfect space to hold those smaller items that you regularly need on your way out the door. A designated spot for your keys, bags, gear, outerwear, AND bike helmets? Yes please.
Pro-tip: If you want to keep surfaces clear, you can add a drawer or two with dividers to keep things handy, orderly and out of site.
Organization and Functionality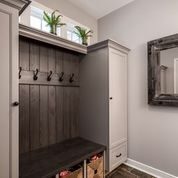 Mudroom storage offers additional space without looking cluttered. Cubbies and bins options provide each member of the household an individual space for their belongings. Looking for mudroom storage inspiration? Here are some examples to get you thinking. (We love #9).
Pro-tip: Consider installing coat hooks at varying heights for family members. Closer to the floor is a great place for kids' backpacks or a purse! Taller ones accommodate the full-length raincoat. With so many different styles, the hooks can even add a neat element to your mudroom's design.
Embrace Your Aesthetic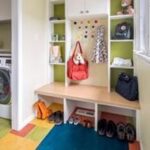 Have fun incorporating your individual style with lighting, color combinations, textures, and decorations. In this Bluestem Remodeling mudroom, our Bluestem designer was inspired by the mid-century modern style, and created a bright and colorful design that compliments the rest of the house.
Pro-tip: Consider a floor of Marmoleum. The product is easy to clean, durable and hides those muddy tracks.

Bluestem Remodeling
Whether your look is shabby chic, minimalist, or glam, a mudroom can become a beautiful addition to your home's functionality. Adding organization and storage that embraces and reflects your aesthetic will give you a renewed sense of peace as you enter and exit your home.
At Bluestem Remodeling, we're ready to create your dream space. Check out our unique projects page to get inspired, and contact us to plan a new space in your house that you'll love.