Coming and going from the house is often a messy process, especially here in Minnesota. There are all kinds of things you have to bring with you and that invariably come into the house with you—wet boots, grit, salt.
Some homes have beautiful, impractical mudrooms; some houses don't have mudrooms at all. If you're thinking of remodeling or adding a mudroom to your Minnesota home, it's important to find a professional that will guide you through your options and think through every detail.

Here are some key considerations to keep in mind.
The Beauty and Benefit of Mudrooms
Mudrooms are one of the spaces that can make the experience of living in a house less stressful and more pleasant.
"There's nothing worse than stumbling over a wet rug in your stocking feet while you're trying to get out the door, and there's salt everywhere, and you can't find your keys, and then the kids' sports equipment falls on you," remarks Mark Ferraro-Hauck, one of Bluestem's co-owners. "That makes a stressful beginning or end to your day."
Luckily, a mudroom remodel or addition can change all of that, especially when designed and built by a team who can personalize your space and help you prioritize your needs.
A Mudroom Floorplan That Makes Sense
If you're going to create a mudroom space in your home, it's important to think ahead about where it will be located. Entryways typically contain all the messy stuff, and you don't want to have to step across it all to get to other parts of the house.
"Sometimes you'll see mudrooms that lead into laundry rooms. Who wants to walk barefoot across a wet rug to get to the washing machine? The mudroom should be the end of the entrance, not the middle of the entrance to the house," added Mark.
Here in Minneapolis, you'll often see homes with entrances right to landings in staircases. We see this in South Minneapolis Cape Cods the 20's and 30's, as well as in split level homes from the 60's and 70's. We want to find a better way to use those entrance spaces.
If you don't have sufficient space in your home to create a mudroom, adding a small bump-out addition (or even just moving the entrance a little bit) can give you the additional space you need. It doesn't take much—even as little as a 36" (room to swing open a door), can frequently be enough. From there, something as simple as a built-in bench and hooks can offer a convenient place to stash things, making the process of leaving and arriving much more pleasant.
Mudroom Materials
Mudrooms are hard-working spaces, which means we want to choose materials that are up for the challenge. A functional mudroom design uses flooring that is easy to keep clean and not slippery when wet.
Marmoleum, for example, as well as certain types of tile or stone, can be great choices. Other features in the mudroom, such as doors, benches or cubbies, need to be rugged enough to handle bumps, scraped and grit.
"With tile, we just want to use grout that's easy to keep clean," says Mark. "This is maybe not the place for white grout."
Mudroom Ideas: Storage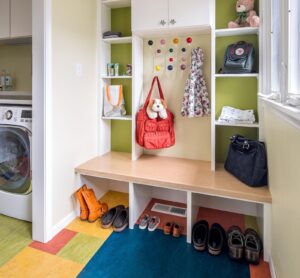 Now that we have an idea for materials, let's think about storage. There are a couple of different ways you can go, and it boils down to this question: Are you going to be looking at the mudroom, or will it be hidden from view?
If your mudroom is in a separate space, you can use pegs to hang up coats and backpacks. If the area is going to be visible from other parts of your home, a cupboard or closet works great for hiding coats and boots.
Think about what you'll store there as you're coming and going. Is this where you'll drop your briefcase, keys, or outdoor play equipment? Knowing how you want to use your space informs your mudroom floorplan. Storage areas don't have to be huge—strategic design can allow them to be minimal yet still very effective.
Consider Temperature and Circulation
Heated mudrooms work well. One of the struggles with living in a colder climate is getting things to dry out. Heating the room helps can help significantly with that. Underfloor heating is not only a great option for comfort, but will also help keep the floor dry.

Sometimes, however, it can be hard to heat a mudroom. If you can't heat your main mudroom entrance space, you could provide a small area of storage for wet coats and shoes within the heated part of your home.
Setting the mudroom one step below the main living area allows it to catch dirt and grit and keeps cold air from flowing across the floor. Adding a door provides similar function.
Regardless of your layout and heating choices, another key thing to keep in mind is air circulation. You want to have enough air circulation so that wet clothes can dry out.

Our remodeling experts look at what's possible in your home and make strategic recommendations for what will work best.
More Mudroom Ideas to De-Stress Your Day
A shoe-drying rack or towel warmers help dry shoes, hats, mittens, or wet coats. (Imagine putting on warm boots when you head outside! Or having a designated spot for the kids' wet gear when they come in from the snow.)

For our furry friends, add a little area to rinse off muddy paws or give them a quick bath. It doesn't even have to be a large area, plus – you can use it to fill buckets for watering plants.

Invest in a spot to get shoes up off the floor. It could be built-in, or something with a removable tray underneath to catch the dirt, mud, and melted snow. (This also encourages people to take their shoes off, which preserves your floors, and helps eliminate unnecessary trip hazards.)

Make Your Mudroom Remodel Work for Your Household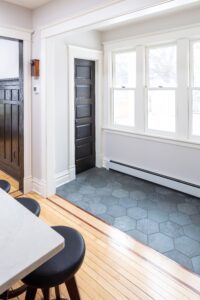 One of the best opportunities in a mudroom remodel is tailoring it to your household's needs. Whether it's a place to store hockey equipment, winter boots, or backpacks, this is a simple but small space that can be personalized to have a big impact. Bluestem's design-build team can work with you to create a customized mudroom for your needs and ease the transition in and out of your home.
As a Minneapolis home remodeling company, we are passionate about creating lasting designs that support our unique climate. Whether you're ready for a micro bump-out addition, want to switch up your floor plan, or incorporate a mudroom into a brand new space, our team listens to your needs and offers detailed, thoughtful ideas that can transform your daily life.
Contact our Bluestem Remodeling team to schedule a consultation.