It's a well-known fact that kitchens tend to become the gathering place of the household. Who's to say if it's the aromas coming from Sunday dinner (meatloaf!), the inherent coziness, or even the proximity to snacks, folks seem to come together in the kitchen. With so many people coming in and out, you might not want cluttered countertops.

So, how do you create a clean kitchen aesthetic? Auxiliary kitchen spaces. Let's explore a couple of ideas to help your kitchen feel spacious and clutter-free.

What Is A Butler's Pantry, And When Does It Work?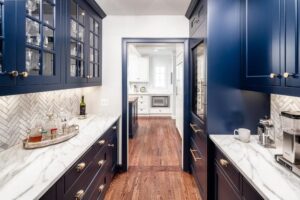 Dating back to the time of – you guessed it – butlers, "butler's pantry" is the fancier term for a walk-through pantry. Ideal for catering, this space keeps the mess out of view for guests. It can house delicate dishes, glassware, and bar supplies. Plus, it serves as an additional preparation area.
A butler's pantry works when there's a separation between the kitchen and dining room and if the layout is conducive to this crossover. Are you in search of walkthrough butler pantry ideas? We love this deep royal blue butler's pantry our team designed. Clean and bold, it provides additional (and functional) space with a stunning look.
Let's look at other auxiliary kitchen spaces that provide functionality and charm. (Fair warning: the names are not as fun!)
Auxiliary Kitchen Spaces And Why You Want Them
Beyond a butler's pantry, there are many other pantry options to house whatever could clutter up your kitchen counters. They allow your kitchen to be sparse, giving the "head chef" extra elbow room. Typically, we separate pantries into three categories: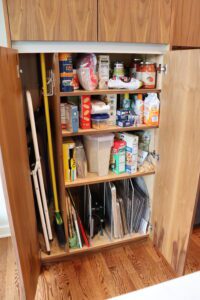 Cabinet Pantry – these taller cabinets are a dedicated, easily-accessible pantry inside your kitchen. We love utilizing larders (especially with pocket doors) for a sleek and functional addition.
Reach-In Pantry – in-between a cabinet and a walk-in, this option provides a fair amount of additional space in the kitchen.
Walk-In Pantry – as the name would suggest, this is a more extensive area (akin to a walk-in closet) right off the kitchen.
These options can all be made highly functional with thoughtful shelving while complimenting your kitchen's aesthetic.
Bluestem's Auxiliary Kitchen Designs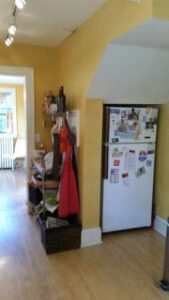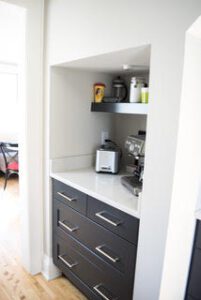 One of our favorite auxiliary kitchen areas is this coffee bar! By utilizing the unused room beneath the landing, we gave these homeowners a nook for their morning brew. Not only is it functional, but by moving appliances off of the countertops, there's now more room in the kitchen!
Another of our most beloved kitchen remodels came from reimagining a laundry room. With the washing machine and dryer moved, we created a walk-in pantry, complete with a microwave, sink, and ice maker. With an open pocket door, it's easily accessible and gives the kitchen a beautifully clean, minimalist vibe. (Photos coming soon!)
Create a Kitchen You Love
Our partnership brings a whole new dimension to your kitchen living. If you're looking for an auxiliary kitchen floor plan within a transformative kitchen remodel, the experts at Bluestem can help make your dreams a reality. Contact us today with your questions, ideas, and concepts – our team would love to find out how we can help you with your home.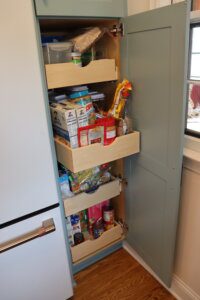 .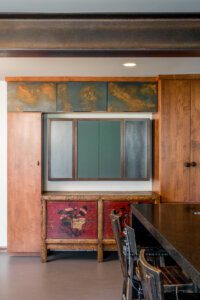 .