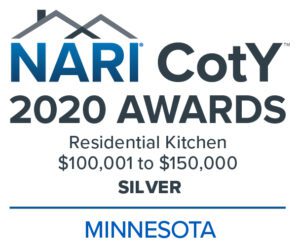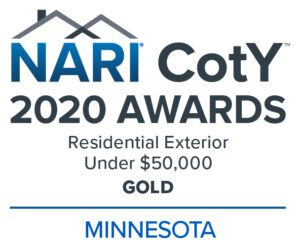 Bluestem Remodeling Named NARI-MN 2020 CotY™ Winner –
Winner of Multiple Awards
The National Association of the Remodeling Industry of MN (NARI-MN)
Named its CotY™ (Contractor of the Year) Winners

---
Minneapolis, MN: November 11, 2020 —The National Association of the Remodeling Industry (NARI of MN) named Bluestem Remodeling in St. Louis Park, MN winner in the Residential Exterior under $50,000 and Residential Kitchen $100,001 to $150,000 categories of its 2020 annual awards competition.
Each year, NARI-MN presents CotY awards to members who have demonstrated outstanding work through their remodeling projects. This is the highest form of recognition by industry leaders and peers.
Bluestem Remodeling, partnering with homeowners for over 20 years, utilizes a full-service design-build process that focuses on strong collaboration and close communication between team members and homeowners, delivering customized spaces through a personalized design and planning process.
Contractors from around the metropolitan area vie for CotY Awards each year. Judging is based on problem solving, functionality, aesthetics, craftsmanship, innovation and degree of difficulty by an impartial panel of industry experts. NARI-MN named the winners at its annual awards celebration which was held virtually this year. Winners can advance to Regional and National competition, representing quality Minnesota craftsmanship and innovation. Winners at the Regional and National level will be awarded in April of 2021.
NARI is a professional association whose members adhere to a strict code of ethics. To be considered for a CotY Award, a company must be a NARI member in good standing.
Winning Remodeling Projects:
A Kitchen with a View
Category: Residential Kitchen $100,001 to $150,000
A micro-addition and new layout turns 1980's cramped kitchen into bright, light-filled collaborative kitchen space.
The cramped, isolated kitchen in this 1980's era home did not fit our clients' lifestyle nor take advantage of the beautiful views of the nearby pond and woods. They longed for a functional yet fabulous space to support collaborative cooking and family gatherings. A micro-addition facilitated a new layout that both opened to and enlivened their existing living and dining spaces. A bold tri-color palette along with pro-level appliances and impeccable finish detailing gives them everything they desired and more. They are so grateful for the meticulous craftsmanship and thrilled with the final result.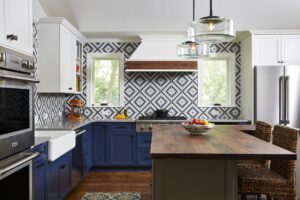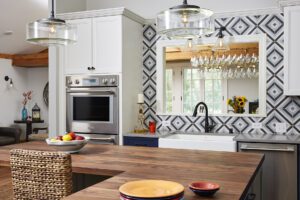 .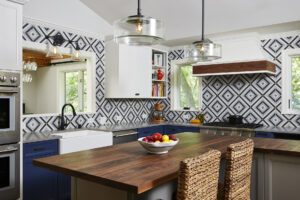 See More Project Photos and Read More
—–
Bug-Free Bliss
Category: Residential Exterior under $50,000
Reimagined back yard turned into family-favorite space for enjoying nature's beauty in comfort.
A busy family dreamed of a space to enjoy fresh air while reading, eating, or entertaining friends. Removing the rotting pergola while retaining the limestone column plinths and bluestone terrace was the starting point of creating this cozy screened-in oasis. The existing stone base is topped with 3-layers – a paneled wall base, custom-sized screens, and classically-detailed flat roof. Incorporating the existing into the new presented many construction challenges but creative planning of openings, circulation, and the roof structure used these constraints as assets in the final composition. This porch has become a family-favorite for enjoying nature's beauty in bug-free bliss.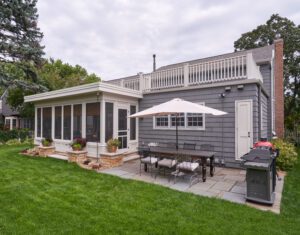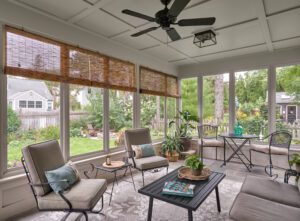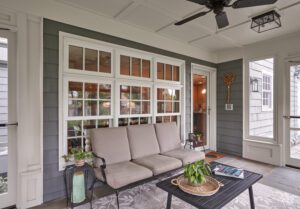 .
See More Project Photos and Read More
About NARI
Consumers may wish to search www.narimn.org to find a qualified professional who is a member of NARI-MN or call NARI National at (847) 298-9200 and request a free copy of NARI's brochure, "How to Select a Remodeling Professional." NARI-MN is the second largest and one of the most progressive of the over 45 chapters in the United States. We offer our members the advantage of affiliation with a proven remodeling authority, and we provide homeowners the convenience of knowing where to begin their search for an appropriate remodeling partner. www.nari.org
About Bluestem Remodeling
Bluestem Remodeling offers a full-service and customized design-build process that focuses on strong collaboration and close communication. From initial design to final construction, Bluestem's uniquely attentive team of specialists, designers and craftspeople guides homeowners through each step of the remodeling journey leading to finished spaces that reflect their clients' individual needs, aesthetics and values. Bluestem strives to create great remodeling experiences for their clients while delivering lasting results that homeowners will love.