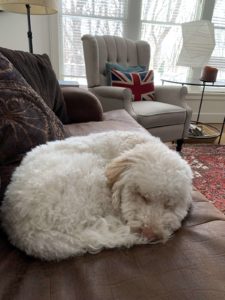 By Timothy Ferraro | Owner, Bluestem Construction
Having returned from Italy just ahead of the crisis, we chose to self-isolate for several days to ensure the safety of our staff and friends. So, although most folks are just starting their serious social distancing, we are already over two weeks into it, in some form. That gave us the chance to practice a bit ahead of time and learn a few things about extra home time.
We are very fortunate to have a home we built for ourselves that has rooms and features we love and that work well for our family. Very fortunate indeed. And although there is plenty that could be said about the uncertainty and anxiety the world shutdown causes (I too struggle to keep from being overwhelmed), I experience gratitude that having to be home can be a peaceful and enjoyable experience.
Here are 10 things I am enjoying about being stuck at home:
Lingering over coffee.
Not having to rush out the door each day means that our morning coffee or tea can be savored in quiet time, or even during "getting my head together" time for the day.
No stressed driving.
Nothing ruins the start of a great day like battling the highway. Well, problem solved.
Short workouts.
Whether it's the simple stretching my doctor recommends, a session of home yoga with a video instructor, or a more complete workout, it's great being able to take 30 minutes, and right at the best time for me (usually mid-morning), for exercise. I just get the feeling I'm really taking care of myself.
Sofa work.
Pajamas, sweats, blanket, pillows. Getting comfy can also mean getting productive! Some of my best spreadsheets have been created from the sofa.
More time with the dog.
Giotto does get to come to the office with me some days, but senses the change of rhythm and routine that our new full-time work-from-home schedule creates. He is right next to me 24-hours a day. And, we get time for mid-day walks and short breaks to play in the yard. Simple dog joy.
Power naps.
I will admit it – I love naps. A short rest after lunch, or in the mid-day slump, makes all the difference for a strong finish to the work day. Setting a timer, I find my favorite couch spot and focus on breathing and relaxing. It's amazing how much better my mind works after a 10-20-minute nap. The nap is especially helpful if the night's sleep has been interrupted by worry or restlessness. Just knowing that I CAN take a nap, if I need to, makes me so much calmer and productive the rest of the day.
Planning meals.
Being able to think ahead about a meal, and maybe even get it started early, brings a whole different sense of timing to the day. Dinner is much more of a time of connection and enjoyment, rather than exhausted recovery, when it can be arranged a little in advance.
Enjoying the rooms of my home.
Watching the light change throughout the day is both intriguing and calming, and getting to be home throughout the day means I get to experience it. I also get to take time in rooms I don't normally inhabit as much, such as the living room. It's great to discover views I hadn't even noticed before.
Happy hour can start right at 5pm.
Without a commute or end-of-day meetings, we are both home right at 5 pm. Wine anyone?
Thinking about changes to my home.
Having been in our home many years, there are a few things that are due for updates, such as the kitchen. There are even some places – like the basement – that were never completely finished. Since I actually get to be in my home now, I am getting to understand more of what works and what doesn't work and am thinking about ways I can improve it.
Whether you are by yourself, with a partner, or with a large family, I hope you are also finding some things you love about being stuck at home.
If you are also thinking about how to make your home better, I would love to help you with that.
Not sure where to start? I will send you our Remodeling Quick Start Guide. Just click here.